Reformed Criminals Changing The Face of Nairobi River [PHOTOS]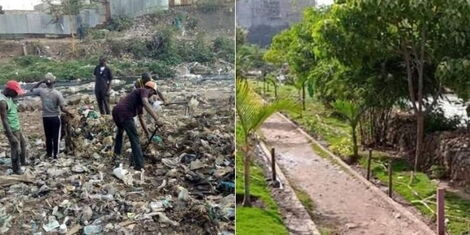 In 2017, a group of youth involved in various criminal activities in Korogocho slums decided to change their ways and pursue a different path in life.
After witnessing almost 50 of their peers losing their lives as a result of mob justice, gunfights, and police killings, the youngsters decided to form a community-based organization Komb-Green Solutions to rehabilitate the stretch of Nairobi River in their neighborhood.
Speaking to TMZ.co.ke, Fredrick Okinda one of the group's co-founders explained that the section of the river was a known hotspot for criminal activities.
"It was not safe for anybody here. You could not walk here with your phone and leave with it as young men lay in wait and ambushed innocent passers-by," he narrated adding that in addition to being a den of thieves, it was a site for drug peddlers and users.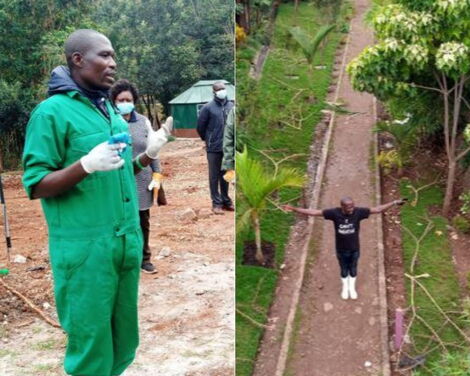 Komb Green co-founder Fredrick Okinda (left) and the reactional park along Nairobi River (right)
TWITTER
FREDRICK OKINDA
Okinda explained that they decided to form the community organisation after a 2017 slum upgrading program, which saw the construction of a new bridge linking Dandora to Korogocho. A number of youth were employed but after the project ended they feared going back to their old ways in crime.
Together with Mzee Muchina and Christopher Waithaka, Okinda mobilised other young individuals in the area to get rid of the dumpsite next to the bridge and along Nairobi River to create a safe space for their community.
Starting with 24 youth, the group has grown to over 120 members where they have been able to embark on various initiatives like building gabions along the riverbank, training the local youth on riparian ecosystem restoration and they have even formed a savings and credit chama.
"Right now we have additional members from young people who have just been released from jail and who are looking for something to do," Okinda noted.
He acknowledged Nairobi Governor Mike Sonko who upon launching his Nairobi River Restoration Program, tapped 70 of their members to clean up the river.
The group has been able to create a recreational park for locals and visitors from a former dump site along the river.
They have also engaged in various forms of urban farming where they grow vegetables including kale, spinach and cabbages which they distribute to some vulnerable families in the slums during the Covid-19 pandemic.
The urban garden set up by the youth of Komb Green solutions
Okinda detailed that they were also engaging the Ministry of Environment and the National Environment Management Authority (NEMA) in restoring other stretches of the river.
"We hope the cleanup process of the polluted Nairobi River will be started from the main source at Ondiri Swamp," he stated during the launch of a clean-up exercise along the river in July 20, 2020.
The youth leader further advocated for the implementation of policies to protect the river from pollution from residential areas and companies as well as prevention of garbage dumping into the important water resource.
"Our vision is to see the Nairobi River restored to its original glory," he affirmed.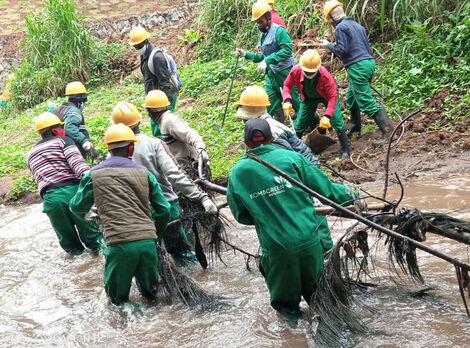 Member of Komb Green Solutions participating in a clean-up exercise along Nairobi River on July 20, 2020.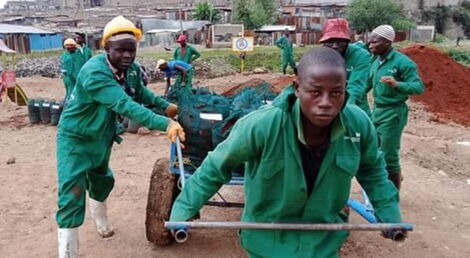 Members of Komb Green solutions setting up their urban garden in Korogocho slums.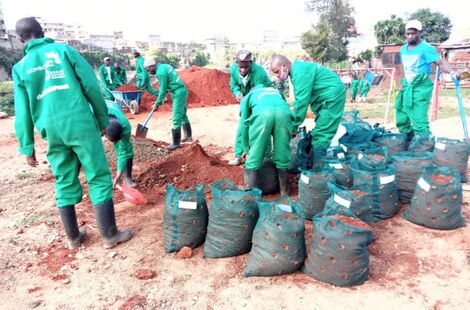 Members of Komb Green Solutions setting up an urban garden in Korogocho slums
Related