Residents Scramble for Free Drinks After Alcohol Truck Overturns on Busy Highway [VIDEO]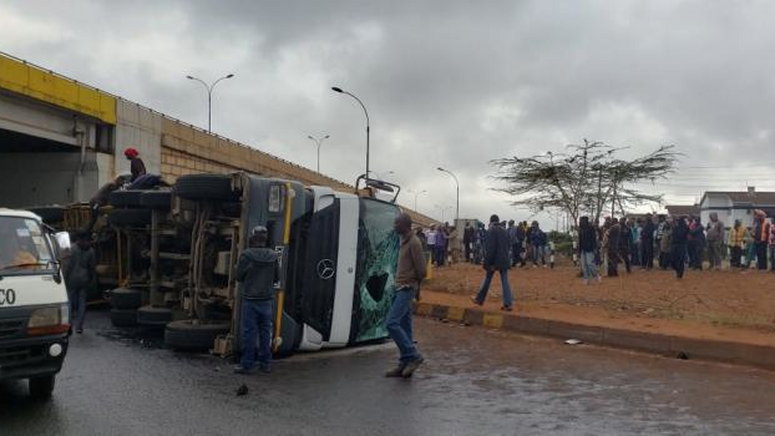 An overturned truck along a highway in Kenya.
Residents scrambled for free drinks after a truck ferrying alcohol fell into a ditch at Kariungi in Embu along the Meru-Embu Highway on Tuesday, April 28.
According to eye-witnesses, the driver lost control of the vehicle and swerved, veering off the road, falling into the ditch.
Residents quickly arrived at the scene and rescued the driver and another passenger, before a crowd milled around the area as individuals started making away with the liquor packed in the back of the white lorry.
Eventually, police arrived to secure the area and were captured dispersing individuals carting away several bottles of the drink at a time.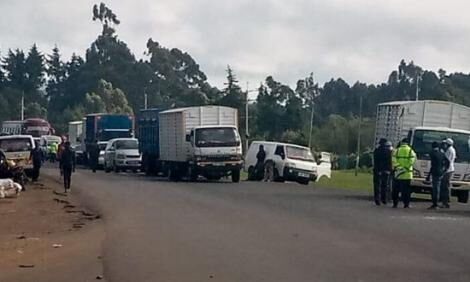 Police set up roadblocks isolating the Nairobi Metropolitan Area on April 7, 2020.
Due to the impact from the accident, several bottles were crushed and people had to sort through them to find those that were still intact.
"When the accident happened, I rushed here without knowing exactly what had happened for the truck to fall into the ditch.
"We saw the driver is okay so we started the work of taking all the alcohol. The way you are seeing us now, it's after the police came and dispersed us," one resident told reporters while proudly clutching a bottle in his hand.
Another eye-witness identified only as Jane disclosed that residents had focused on saving the driver and a passenger, stating that police arrived swiftly and cut the party short soon after people had started taking the alcohol.
"I'm Jane from a place called Wagithendo here in Kairungu. When this alcohol truck overturned we rushed and saved the driver and his conductor.
"But the police arrived quickly and stopped us from taking the remaining alcohol," she stated.
As a video of the incident started making the rounds, many Kenyans were quick to observe the disregard for government directives meant to curb the spread of Covid-19.
A vast majority of those gathered at the scene lacked face masks, despite the requirement to wear them in public, and also ignored recommendations on physical distancing.
Watch the video below: