Ronald Ngala's Wife Passes on – Life & Times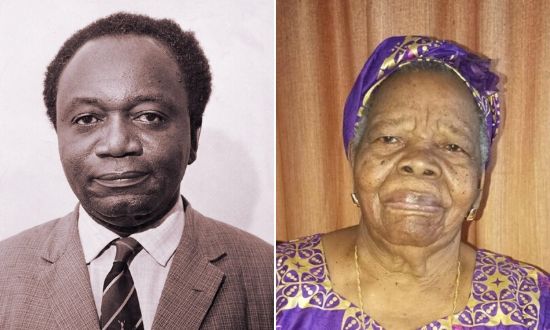 Mzee Ronald Ngala and his wife Mama Esther Ngala. Esther passed away on April 26, 2020.
Esther Ngala, the widow to Kenya's first opposition leader Ronald Ngala passed away on April 26 at around 7 p.m. following a spirited battle with illness.
Mombasa Governor Ali Hassan Joho revealed the news to the public on Monday, April 27, and led his county in mourning the death of a woman described as a key player when it came to women empowerment in the region.
She was also involved in educational projects in the coastal region, following in the footsteps of her late husband who was one of the earliest beneficiaries of a good education, having graduated from Makerere University as a teacher.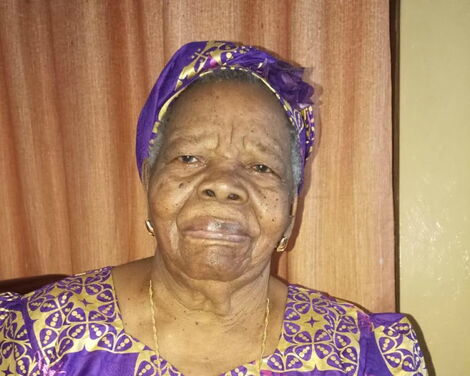 The late Esther Ngala, wife to the late Ronald Gideon Ngala who passed away on April 26, 2020.
"It is with great sorrow that I have received the news of the passing on of our mother Mama Esther Ngala. Mama Esther was the widow of the late Hon. Mzee Ronald Ngala who was the father of the quest for 'Majimbo' in post-independent Kenya.
"She was a pillar in the empowerment of women in the coastal region & held high the torch of education for years. She will be sorely missed by many. I pass my condolences to the entire family led by Hon. Katana Ngala & to the entire coastal family. May her soul rest in peace," Governor Joho stated.
Mama Esther Ngala, as she was fondly referred to, is the mother of former Ganze MP and powerful minister in Moi's government Noah Katana Ngala and 16 other children, seven of whom have since died.
Caroline Farra, one of her 45 grandchildren, revealed that Mama Esther had been frequently visiting the hospital leading up to her death.
"She has been in and out of the hospital due to an infection on a wound in one of her legs. She was diabetic and also suffered from high blood pressure," she stated.
Mzee Ngala's widow grabbed the headlines back on July 27, 2004, when she rekindled the debate surrounding her late husband's death, claiming that she was not convinced that her husband died in a road crash.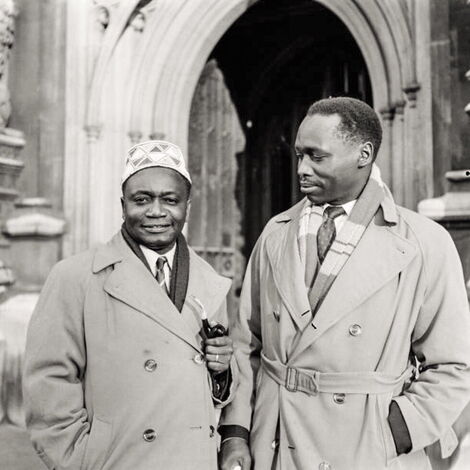 Daniel arap Moi with Ronald Ngala in London for the Lancaster constitutional talks in 1961.
Speaking when she received a delegation of women leaders at her Vishakani home in Kaloleni, Kilifi District, Mama Esther said she did not believe that a swarm of bees distracted her husband's driver leading to the tragic road crash on December 12, 1972, which led to the renowned politician's death on Christmas Day of the same year.
After immense public pressure, Mzee Jomo Kenyatta's administration finally agreed to hold an inquest into Ngala's death.
Kumar Sachdeva, the judge in the pre-trial of Nahashon Njenga, the main suspect in the murder of Tom Mboya, was chosen to lead the special commission.
When the inquest began on February 10, 1973, James Karugu, the Deputy Public Prosecutor (DPP) at the time, aired the government's misgivings right away, "We are getting to the stage in this country where a person cannot die of an accident or of natural causes without creating a mystery around the cause of his death."
Mzee Ngala's driver told the inquest that he lost control after swerving to avoid hitting an animal, but his account raised questions after a witness claimed that he had initially told them that he lost control after bees flew into the car.
The conclusion was that Ngala's death was accidental.
Mama Esther will be buried on May 2, 2020, at her home in Vishakani, Kaloleni next to her husband's mausoleum.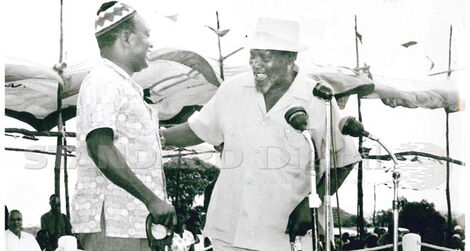 Kilifi South MP Ronald Ngala (left) and first President Jomo Kenyatta during a meeting in Kwale District