Ronald Osumba: Tough Lessons From Peter Kenneth's Running Mate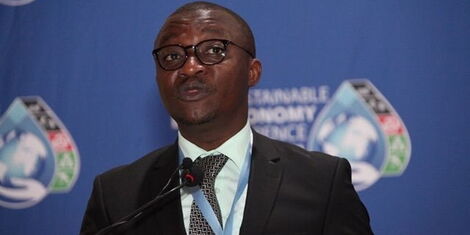 When one of the elders in former 2013 presidential aspirant Peter Kenneth's campaign team, proposed Ronald Osumba as his running mate, the latter could not help but think that it was a joke.
However, with time, something that began as a single man's idea became a reality and in 2013, Osumba became a Deputy President aspirant.
"We put up a strong campaign team and put up what we thought was a winning strategy. We rolled out one of the most aggressive social media campaigns and we were thriving on Twitter and Facebook," Osumba narrated on Engage, a platform that provides an avenue for ordinary and extraordinary people to inform, inspire and influence.
File image of former Gatanga MP, Nairobi gubernatorial aspirant, and Mayfair Group Founder, Peter Kenneth.
The duo would later make a public announcement of their intentions to run for office on January 16 and in the full glare of the cameras. A move that Osumba stated changed his life from what he knew.
"My phone started ringing completely off the hook and by the end of the day, I had over 500 missed calls and over 5,000 text messages. I had now become a public figure and the world owned me," Osumba continued.
His phone would later stop ringing when the two conceded to defeat on day three of vote counting.
"The show was over. I drunk my silence away and found comfort in hanging with my son," he added.
Osumba, who was previously the senior manager in Public Sector Sales at Safaricom, was now a jobless man but the late Bob Collymore, who was then CEO of Safaricom, welcomed him back to his post.
Two weeks later, he was back at work.
He did not stay long at the telecommunications company. He went on to set up an organization called Onwards Kenya and was later offered a position as Head of Public Sector at Oracle Corporation which he accepted.
Months later, President Uhuru Kenyatta appointed him as the chairman of the Youth Advisory Board, though he had not applied for it.
Osumba admitted that his life has had highs and lows that have taught him that life is not a stage, but war made up of many battles; some which are won and others which are lost.
He added that he has battled financial constraints and marriage problems, all due to his life choices.
"I'm fighting my own battles, my marriage, my finances, my health, my career, but I have come to love my battle scars because they are my badge of honor. They are proof that I am battle-hardened.
"I will keep fighting this battle and I guarantee you that I will win this war," he concluded.
Related