Ruto, Uhuru Rift Widens With DPs Latest Stand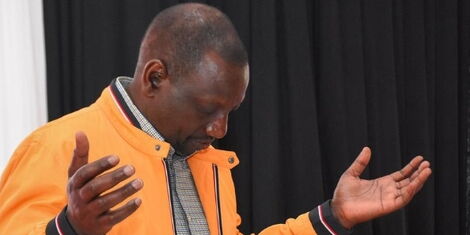 The rift between President Uhuru and his deputy William Ruto widened when the two publicly differed on the government's stand on the Senate's revenue sharing formula on Friday, August 21.
The President while speaking at the Kenyatta International Convention Center (KICC), Nairobi broke his silence on the issue, which has seen the Senate adjourn for the ninth time and a 12-member committee selected to create an agreeable revenue formula.
Kenyatta supported the formula tabled by the SRC, Salaries and Remuneration Commission, which proposes for allocation on the basis of population.
"The money being debated is not mine and this formula was proposed by SRC, indicating that money should be sub-divided equally.
"Now that they are saying that residents of Nairobi are rich, my question is, would residents from Embakasi and Korogocho, who do not have toilets, have similar views? The truth shall stand," the president stated.
Ruto, while hosting a delegation of grassroots leaders at his Sugoi, Uasin Gishu home, reiterated his stand on the allocation formula and urged Senators to create a win-win formula that will put all counties under consideration.
The DP urged that the Senate has the requisite leadership and wisdom to create a revenue formula as it is a constitutional requirement.
"We must ensure we move the country together. It should be guided by a win-win situation whereby populous counties get their fair share of revenue just as those that are considered marginalized or geographically small in size," Ruto differed.
Their split stance comes a day after Ruto poked holes at the government, openly questioning the police's motive behind the arrest of three Senators ahead of the revenue allocation debate.
Ruto also satirically responded to reports alleging that he had been sidelined from the government. The DP acknowledged that he was a spectator in government and for once, he wouldn't be blamed for the Covid-19 scandal which has seen billions allegedly embezzled by state officials.
On Wednesday, August 19, Nyeri Town MP Kimani Ngunjiri argued that Ruto is an opposition leader in Kenya, rather than a government official.
"Who else thinks that this is more of the kind of statements we expect from an opposition leader rather than from a Deputy President 'protected by the constitution'? Though I must admit that I am happy we are getting acquitted with our next official leader of the opposition," Ngunjiri posted on his social media pages.
Emmanuel Talam, Ruto's spokesperson defended the DP stating that it would be unfair to shift the burden of proof to him when he is firmly in office and executing his mandate.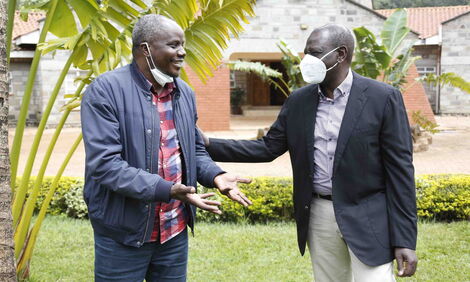 DP William Ruto (right) speaks with a delegate at his Sugoi, Uasin Gishu home on Friday, August 21, 2020
Watch the DP differ with Kenyatta
Related