Saba Saba Veterans Unveil New Alliance for 2022 Elections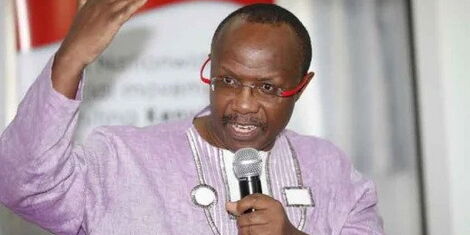 Renowned economist David Ndii on Wednesday, July 8 shared resolutions from the Limuru IV conference held on July 7, thirty years after the Saba Saba protests of 1990.
The annual conference brings together veterans of the original Saba Saba movement and civil society groups among others to reflect on the state of the nation and to safeguard gains made over the years.
Ndii, who worked as a Strategist for the Raila Odinga-led National Super Alliance (NASA) coalition in the 2017 elections, announced the formation of a new alliance to contest the 2022 poll on a social justice platform.
He disclosed that they had begun consultations with political players and citizens to craft a 'National Salvation Platform' to address the country's biggest challenges.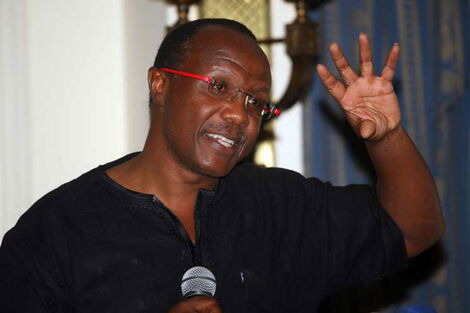 Economist David Ndii at the Sarova Stanley Hotel in Nairobi on December 8, 2015.
Key issues the alliance plans to focus on are protecting and the full implementing the Kenya 2010 Constitution, bringing an end to the economic plunder of Kenya, and banishing election rigging from Kenya beginning with the 2022 election.
"We take this opportunity to let Kenyans know that we have resolved to marshal all progressive forces into a formidable alternative to this self-serving divide and rule oligarchic politics.
"Kenyans deserve progressive leadership that celebrates our diversity, dignifies every individual and community, fosters unity in diversity around our common humanity, that is true to our collective aspirations – to dwell in unity, peace and liberty, with justice as our shield and defender, and to have plenty within our borders.
"Our progressive alliance will contest in 2022 on a social justice platform that encompasses the agenda we have outlined. We are also hopeful that our ongoing consultations with other political actors and Kenyans of goodwill will coalesce into a National Salvation Platform. If there was ever a time to put aside our differences – personal, political, tribal, religious, ideological, social – that time is now," the statement reads in part.
Notably, the statement tore into both President Uhuru Kenyatta's administration and the Raila Odinga-led ODM party.
It accused the government of fostering runaway corruption leading the country to economic ruin and mutilating the Kenya 2010 Constitution by attempting to take over the Judiciary and to control Constitutional Commissions and Independent Offices.
It alleged refusal to correct historical injustices and observed violations of human rights including a surge in extra-judicial killings. The government was also accused of undermining devolved units through administrative and legal impediments.
"The current regime has completely overturned the economic gains and revival since the end of Moi's ruinous tenure. They have taken us back to the brink of economic implosion
"All sectors of the economy have been destroyed by incompetence and mismanagement, self-interest, neglect, greed, ill will, sabotage, looting, odious debts and the utter absence of vision," the statement noted.
The opposition, on the other hand, was accused of working with the government in Parliament to remove all checks and balances envisaged in the Constitution.
The handshake between Uhuru and Raila, meant to chart a path towards national unity, was blamed for a scramble by top leaders to become tribal kingpins in their regions defeating the project's purpose.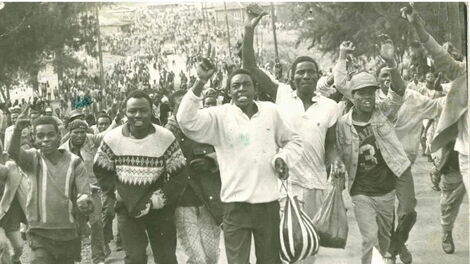 Demonstrators pictured in Nairobi during the first ever Saba Saba rally on July 7, 1990
Related