Sabina Chege, TV Presenter Offer Help to 2 Siblings After Viral Story [PHOTOS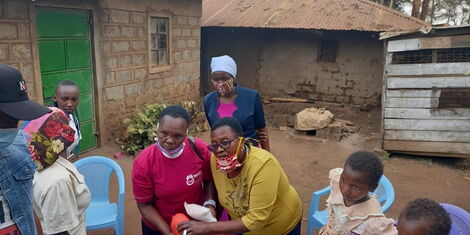 FACEBOOK
Murang'a Woman Representative Sabina Chege, Kameme TV presenter Njuguna Gicheha alias Man Nyari and a well-wisher by the name Rachel Njeri on Friday, September 3, visited two siblings whose story went viral after their plight was highlighted by local media stations.
The children, Joyce Wanjiku and Lucy Njoki, had decried that their parents disowned them at a very young age after domestic squabbles begun and the two were forced to separate.
"Our mother went with one of our siblings- she was the youngest- and left us in the hands of our father. One morning, our father burnt all our belongings including our clothes and books and chased us from home," Njoki narrated.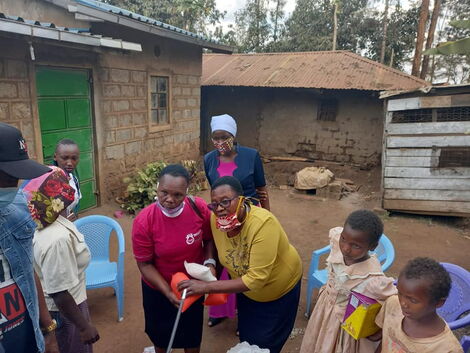 Kameme TV presenter Njuguna Gicheha alias Man Nyari visit Joyce Wanjiku and Lucy Njoki on Friday, September 4, after viral video
FACEBOOK
The duo moved in with their aunt and would stay for only two days before they were chased out yet again and forced to seek residence at an abandoned house.
"We still wonder why our parents left us. We did not do anything wrong, we have been suffering," she added.
The siblings met Njeri, a well-wisher who has been living with them for two days before they get a permanent place to call home.
"I took the children to the police station but unfortunately, I did not find officers on the said day. Hence, I was asked to return home with them and bring them the next day. So, I brought them back home," Njeri stated.
On Friday, the Kameme TV Presenter and Murang'a Woman Rep visited Njeri's home with foodstuff and vowed to get to the root cause of the problem as well as ensure that the children got a safe place to reside.
"I suggest that the children be taken to a school, in a protected environment. Additionally, I would suggest that they visit their family members once home, so that they can stay connected to them," he added.
Currently, the two siblings have been taken to live with their grandmother Jane Muthoni who will take care of them before they can come up with a permanent solution.
In Kenya, the government has developed and adopted policies and enacted laws to protect children.
However, according to UNICEF, thousands of children are still exposed to violence and abuse, harmful practices, lack of parental care and sexual exploitation.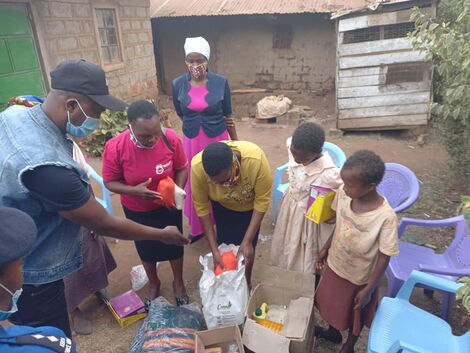 Kameme TV presenter Njuguna Gicheha alias Man Nyari visit Joyce Wanjiku and Lucy Njoki on Friday, September 4, after viral video
Related