Second Wildfire Engulfs Tsavo West National Park in 2 Months [VIDEO]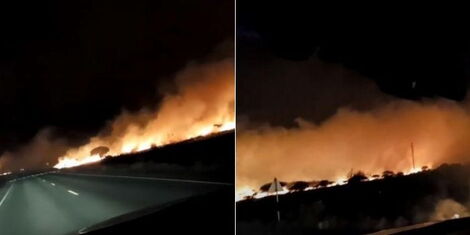 UPDATE: The Kenya Wildlife Service (KWS) on Thursday, July 22 issued a statement over a raging inferno reported in the Tsavo conservation area.
KWS noted that three sets of fires had been reported in the area with one inferno already contained while teams had been deployed to put off the other two.
"The first one in the Taita ranches adjacent to Tsavo East National Park. This was put off before encroaching into the park.
"Efforts are ongoing to put off the second one in the southern part of Tsavo West National Park. The third fire broke out in Kikunduku part of Chyulu National Park as 7:30 p.m. and is also being fought by our teams," KWS stated.
---
Watch a video of the fire incident below:
An inferno engulfed a section of the Tsavo West National Park on Wednesday, July 22, destroying vegetation on thousands of acres of land.
In a video shared online, the fire spread across both sides of the Nairobi-Mombasa road along the Mwakitau area.
This was the second major wildfire incident reported in the conservation area in just two months, with the cause of the fire yet to be established.
The Kenya Wildlife Service (KWS) was yet to issue a statement at the time of publishing this article.
The initial fire incident was reported in May 29, razing down over 4,000 acres within the Tsavo East National Park.
KWS attributed the source of the fire to a little boy who was burning litter at a village called Lebanon in Voi.
The fires in the parks lead to destruction of large tracts of land which endangers the habitats of the animals.
As the inferno spreads, small animals may get trapped as the larger ones are able to escape.
Speaking to TMZ.co.ke, the Head of Botany Department at the National Museums of Kenya (NMK) Dr. Paul Musili explained that the effects of a huge fire could take up to years to repair.
"In such an inferno, small insects will die, burrowing animals will have nothing to eat and as the vegetation gets burnt, there is no forage and the big animals as well may die of starvation if they can't move to another habitat," he explained.
Tsavo West Park covers 9,065 square kilometers and is a popular tourist destination because of its alluring scenery, Mzima Springs, rich and varied wildlife, good road system, rhino reserve, rock climbing potential and guided walks along the Tsavo River.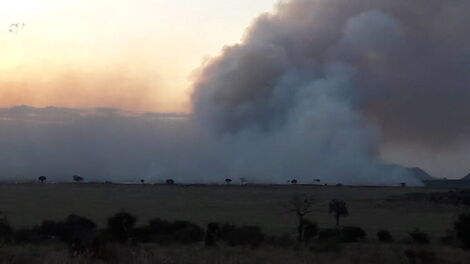 Smoke engulfs the sky as a fire rages on at Tsavo East National Park on May 29, 2020.
Related