Security Guard Who Impressed With News Anchoring Skills [VIDEO]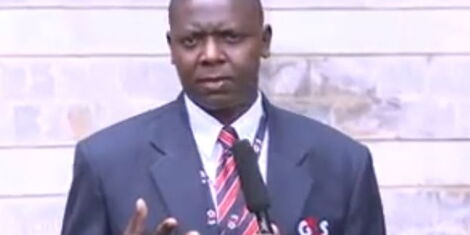 Many who saw a viral video on Thursday, May 18, of a man holding a microphone and reporting in Kiswahili on an event in Nairobi, thought they were watching a professional journalist.
Namuasi Nyongesa, the security guard in the video widely shared on Whatsapp among other social media platforms, impressed many with his news anchoring skills triggering a floodgate of comments.
His fluent Kiswahili was impeccable, and Nyongesa oozed confidence as he spoke on a conference held by Kiswahili scholars on how to ensure the language is valued.
Only his blazer emblazoned with the logo of a security firm he worked for made it clear that this was not your everyday presenter.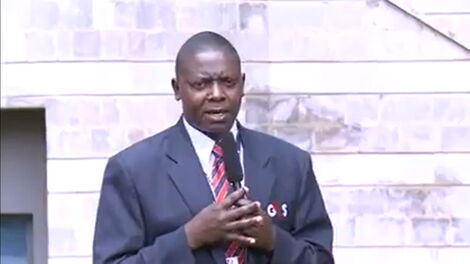 Screengrab from a video of Namuasi Nyongesa reporting news
In the video, he discussed how the scholars had highlighted the role of TV and radio in promoting the use of Kiswahili and learning around it.
Impressed, some of the Kenyans who watched the video called for mainstream media houses to offer Nyongesa a job as a journalist, citing his apparent talent.
"Where is S.K Macharia (Owner – Royal Media Services). This man needs to be on TV," suggested Winston Osiya.
"What a great news presenter. Congratulations!" wrote Kiongo Mburu Kinuthia.
"We need him in the newsroom as fast as possible," one Opuk Miel noted.
As it turns out, however, Nyongesa first shared the video in 2013 as he sought support to achieve his dream of being a journalist.
"This is a talent I have. Kindly expose this to the avenues of essence so that I realise my dream," he posted on September 19, 2013.
He gained some traction on social media, but the buzz did not result in a job offer from a mainstream media house.
The video, however, continues to inspire Kenyans due to Nyongesa's desire to make the most of his talents.
Related