Senator Omanga Walks Into a Trap in Jubilee Disciplinary Hearing [VIDEO]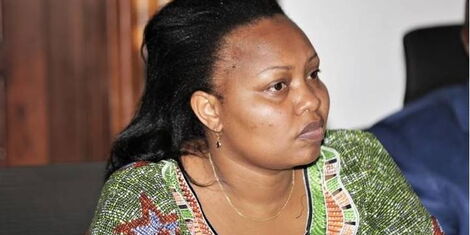 Nominated Senator Millicent Omanga on Wednesday, May 27, appeared before the Jubilee Party Disciplinary Committee to defend herself against expulsion.
While addressing the panel at the party's Pangani headquarters, Omanga revealed that she wasn't expecting to be grilled by the party disciplinary organs as she had already explained herself.
"Maybe there was a miscommunication, but when I explained to the Chief Whip Murang'a Senator Irung'u Kang'ata my position, he had told me that we were coming here to withdraw the charges," she argued.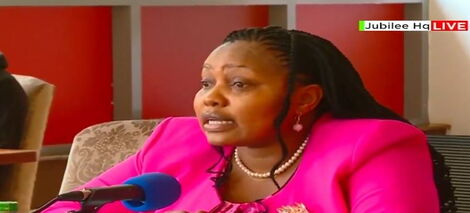 Senator Millicent Omanga speaking during a Jubilee hearing on Wednesday, May 27, 2020.
The legislator who was facing expulsion from the party added that she had a text message from the Chief Whip to that effect.
"It was actually a surprise that we were going through this (grilling)," she conveyed adding that, "I said it was a blessing in disguise because I can clarify and explain myself further on the issue because I believe there is a lot of misconceptions."
Omanga explained her absence at the Jubilee Party Senate Parliamentary Group (PG) meeting at State House, Nairobi on May 11, stating that she did not receive an invitation and only came to learn about it much later.
"I did not get the message and only learned it later from the Chief Whip. As a politician, you understand that you get a lot of messages.
"Right now, I have 7,000 messages and I've tried searching for that invite message and I have not been able to find it. I did not have an avenue to send an apology because I had no message," she told the disciplinary committee.
She further affirmed her loyalty to the party adding that since she joined in 2017, she had paid over Ksh600,000 in membership fees to Jubilee.
Omanga further addressed her sentiments on social media where she was seemingly fighting against the party's leadership.
"I was defending our party against perpetrators; that is people who don not support our party. They are all over on social media. I was just responding to media and social media. It was a social media thing," she stated denying that she was against the party's leadership.
Related