Sonko, Badi Team Up to Avert Nairobi Health Crisis
Nairobi Governor Mike Sonko and Nairobi Metropolitan Services Director General Mohammed Badi have called on health workers to pursue a dialogue in their quest for improved payments.
Speaking after the issuance of title deeds to Embakasi and Tassia residents by President Uhuru Kenyatta on Friday, August 21, Badi said he was working with the county government to ensure all the key grievances of health workers are met.
In a statement sent to TMZ.co.ke, they assured that the concerns raised were already under consideration for an immediate solution and that there was no need for a strike.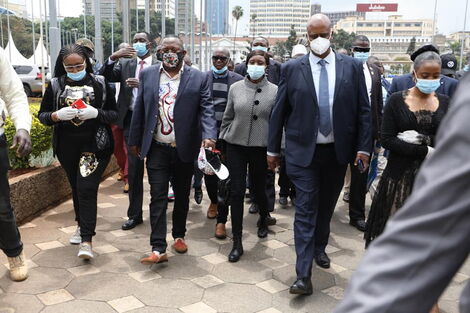 Nairobi Governor Mike Sonko and NMS Director-General Mohammed Badi
They called on all health workers planning to strike to continue working as deliberations on their grievances were being handled.
"We are working with the county government to avert the ongoing strike and we will initiate talks with the union of doctors' and nurses' officials to ensure the payroll system has been met and salaries timely paid," promised Badi.
He added that all public hospitals have been equipped with PPE kits to help in the management of the dreadful Covid-19 pandemic.
"Health care workers are the heartbeat of this response and so we are in negotiations and discussions with them to evaluate their concerns to be able to come to a middle ground where we can actually move forward," he noted.
Governor Sonko concurred with the NMS DG's sentiments and agreed to work together to combat the strike.
"I want to condemn the negative union officials inciting the health workers to bring it to an end as we are all aware the workers are being pushed to strike bringing Nairobi and the nation to a medical crisis," he spoke.
The Kenya Medical Practitioners Pharmacists and Dentists (KMPDU) had earlier on met with Badi but failed to agree.
The governor later attended the burial of the late Samuel Mutuku Mulu (Kathi), the firstborn son of the late Mulu Mutisya in Machakos County.
"I mourn with the larger Mulu Mutisya family over the loss of their son, Kathi will be remembered for his tremendous contribution to the development of the greater Machakos County, especially during his years at the Machakos County Council," consoled Sonko.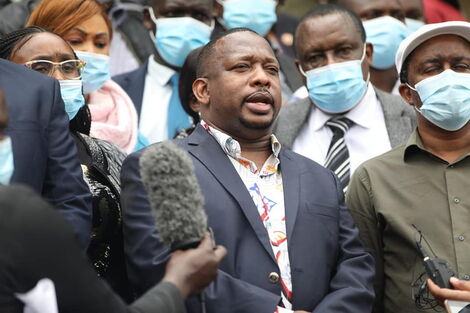 Nairobi Governor Mike Sonko speaking to journalists at KICC on August 21, 2020
Related