Suspected Al Shabaab Gunmen Raid Police Camp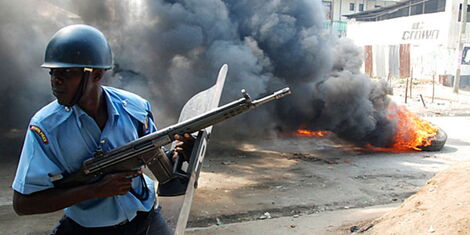 Alleged members of the Al Shabaab militia group launched an attack at a police camp in Wajir East on Friday, May 15, 2020.
Daily Nation was first to report that the group's attempt at the Khorofharar Police Post was unsuccessful. Out of frustration, the militia proceeded to destroy a communication mast in Khorofharar.
The attack on the police camp proceeds several other similar attempts, as the region continues to grapple with threats to security posed by militia plying the region.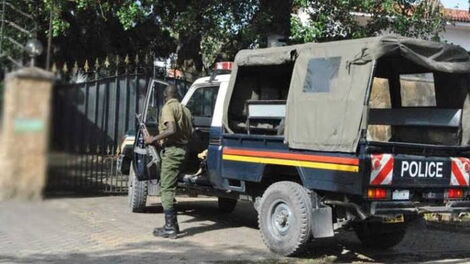 An armed Kenya police officer steps out of a police car.
Hours after the incident, Kenya Army officers and Jubaland Security Forces (JSF) at Beles Qoqani Somalia killed 3 terrorists at 3 a.m. in the morning of Saturday, May 16, 2020.
Counter-Terrorism and National Security Intelligence (CTNSI) revealed that approximately 20 terrorists attacked the JSF position but were intercepted by KDF Night Patrol officers.
Regional Commissioner Nick Ndalana had on February 21, 2020, stated that the group was targeting National Police Reservists (NPRs), believing that they were feeding information on their whereabouts to security agencies.
The attack comes a month after four gunmen suspected to be affiliated with the Al-Shabaab terrorist group died in a shootout with police in Kakabey, Wajir County on the morning of Monday, April 13, 2020.
However, two police reservists were critically injured during the altercation.
Thomas Ngeywa, the Wajir  Police Commander confirmed that the incident had taken place at around 10.00 a.m. in an area about eight kilometres from the Kenya-Somalia border.
Police reservists based in Wajir were on their routine patrol in the morning when they came across members of the Somali-based militia group.
In the ensuing gun battle, a number of police reservists were inured though it had not been ascertained just how many. Unconfirmed reports indicate that at least two officers were critically wounded.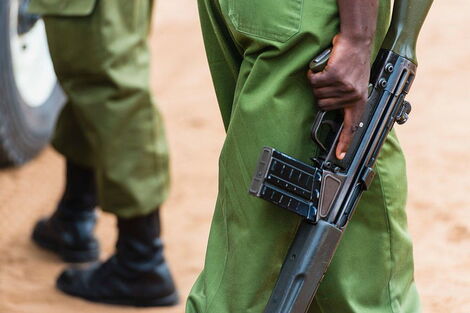 A file image of an armed police officer
Related