The Service Party: Mwangi Kiunjuri Launches New Political Outfit
Former Agriculture Cabinet Secretary Mwangi Kiunjuri on Wednesday, June 24, officially launched a new political party known as The Service Party of Kenya (TSP).
Kiunjuri convened a press conference at the party's new headquarters located along 14 Riverside Drive in Nairobi, revealing what he had been up to since his unceremonious sacking from the Cabinet to outline the party's vision.
Flanked by officials and party members, he announced that TSP would be a grassroots party that would live up to its name of service to Kenya's citizens.
The party's primary colors are yellow and red, with a heart symbol representing a commitment to serve the people with the party slogan being 'Huduma, Twajiamini'.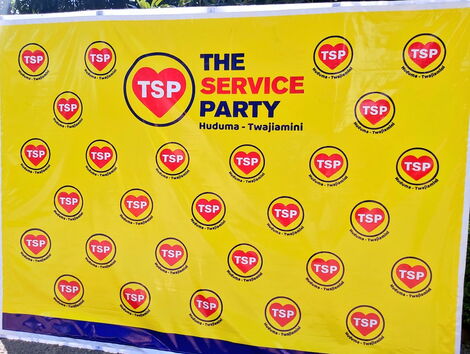 The Service Party (TSP) logo displayed at a press conference in Nairobi on June 24, 2020
"True leaders are called to serve selflessly, not to serve their interests. Service is what our people need. Service to humanity is service to God. TSP writes its promise of service in the hearts.
"Our symbol is a heart inside a circle nested in the background of our party colors. This symbol is our promise," he stated.
Among issues he promised the party would focus on are food insecurity, unemployment, low wages and health.
Addressing the government, he stated that interventions on the effects of Covid-19 were to be prioritised before any political agenda.
Kiunjuri stated that it was clear that parties had begun undertaking various strategies ahead of the 2022 General Election.
He promised that the party would also welcome leaders decamping from various parties including the 'big parties'.
The former Agriculture CS promised that once restrictions on Covid-19 were lifted, the party would embark on listening tours across the country to incorporate feedback from citizens and unveil county offices.
He thanked founding members for recruiting members across various counties helping the party meet requirements for registration.
Kiunjuri was the Party Leader of the Grand National Union (GNU) party which he formed ahead of the General Elections in 2013.
In 2016, however, the party folded and became part of President Uhuru Kenyatta-led Jubilee Party.
After he was sacked from the cabinet by Uhuru in January, Kiunjuri lamented that Uhuru had convinced him to fold his party and not to run for the Laikipia Gubernatorial seat only to abandon him.
Watch part of Kiunjuri's speech below:
Related