Thika Road Estates to Lose Water During 2-Day Maintenance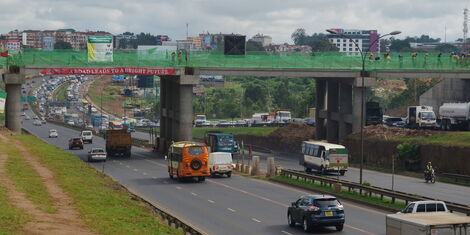 Several residents of Thika and Kiambu County are set to see their taps run dry as the Thika Water and Sewerage Company (THIWASCO) undertakes a maintenance operation from Tuesday, August 4.
The maintenance operation is meant to repair raw water pumps at the Chania Water Intake and will begin in the evening and run for two days.
Chania River is the only source of water for Thika and parts of Machakos County. THIWASCO has a service area of 254 km².
In a public notice, Chania regretted the inconvenience even as they explained how they expected the water shortage to be managed.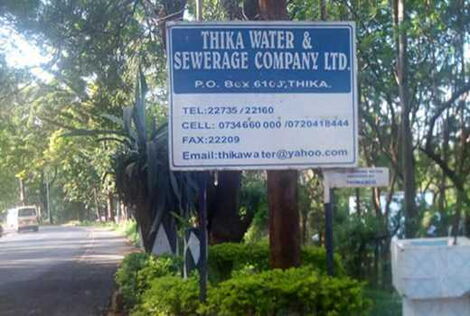 Sign leading to Thika Water and Sewerage Company (THIWASCO) offices
"This will consequently affect water supply in most of our supply areas. However, we shall endeavor to have equity of supply as per our water rationing program during this period," the notice read in part.
Acknowledging that the supply interruption came at a time when the country was fighting the Covid-19 pandemic, the authority noted that it had installed 90 hand-washing facilities across the service area.
It noted, however, that vandalism had been witnessed at several of the facilities installed in a bid to curb the spread of the virus.
Also read;
"Unfortunately, we have encountered challenges and misuse of the units. This is therefore to request those doing these acts to desist from the same and encourage the communities served to be diligent and report any such incidences," THIWASCO noted.
Many Kenyans prepare for water supply interruptions by storing sealed containers of water for drinking and domestic uses.
Another important tip is to ensure all taps and faucets are closed, as supply resumption could lead to flooding in the home.
In addition, you are advised to keep anti-bacterial hand sanitizer in the home to ensure that your hands remain clean, particularly as it is one of the main prevention measures for Covid-19.
Once the water supply resumes, one is advised to allow a cold water tap to run for at least five minutes to ensure the water runs clear before any other water-using device is operated.
A section of Nairobi-Thika highway.
Related