Thugs Cornered After Breaking Into OCS's Home to Steal Car [VIDEO]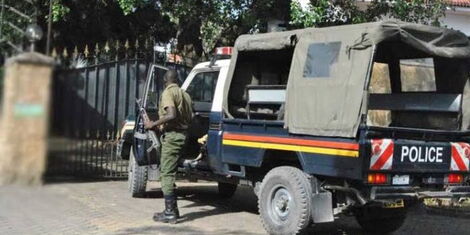 Thugs associated with a car theft syndicate in Western Kenya were arrested alongside their supposed leader after breaking into the home of the Deputy Officer Commanding Matunda Police Station (Deputy OCS) Joseph Jakoyo and stealing his car.
In a video seen by TMZ.co.ke on Wednesday, July 8, Likuyani Sub-county Police Commander Boniface Lisiolo disclosed that the thugs broke into Jakoyo's home on June 11 and made away with his car which was in the parking lot.
The following day, police commenced investigations into the matter and spotted its location in Bomet. After a car chase a few days later, one of the thugs was arrested who named his accomplices in what was uncovered as an expansive car theft syndicate ran by a school teacher.
"The car was stolen on June 11, at the parking lot (of the deputy OCS) by unkown assailants. The next morning, we began tracing the car to locate its whereabouts and we spotted the car in Bomet.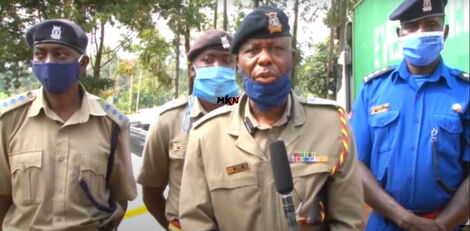 Likuyani Sub-county Police Commander Boniface Lisiolo addressing the press.
"By good luck, the Directorate of Criminal Investigations had deployed a team from Nairobi to North and South Rift to investigate rampant car thefts in the region and spotted the car," stated the officer.
He disclosed that the detectives attempted to stop the car but it sped off and after the chase, its occupants abandoned the car.
Upon further investigations, a suspect was taken into custody and revealed the identities of his accomplices who were promptly arrested.
The suspect, also disclosed that the syndicate operated in Bomet, Sotik, Eldoret and Kitale.
"When we probed further, we discovered that there was a mastermind behind the group in this region who was mentioned adversely by our suspects.
"The mastermind was also a teacher at a school in Kitale, On July 2, we learned that the mastermind was planning to sell a Toyota Succeed in Likuyani. We rushed to the scene and arrested the teacher and his colleague," continued the officer.
After grilling, the teacher named his colleagues who were also arrested and vehicles seized from them.
The officers recovered several number plates, logbooks, windscreens from the said teacher who was arrested together with his wife.
"In total, we have eight cars at Matunda Police Station associated with the ring," remarked the officer.
Investigations are still ongoing before the suspects are arraigned in court.
Below is the video of the officer's narration:
Related