Tik-Tok Star Alvan Gatitu Repays Watchman Who Saved Him
The story of former Tusker Project Fame contestant Alvan Gatitu being forced to sleep outside in the cold after being locked out by his landlord is one that touched many Kenyans who came to assist the internet star.
Gatitu narrated that it was a watchman in the building who came to his rescue offering him a temporary place to sleep. Following his plight getting attention and well-wishers contributing, the tik-tok star sought to repay the guard identified as Wafula Kizito.
The internet sensation offered the watchman anything he wanted to better his life, to which Kizito asked for a motorcycle.
"Mimi nimeishi kutamani niwe na kazi yangu ya boda boda. Ninajua kuendesha piki piki (I've always wanted to have a boda boda business because I know how to ride)" he stated.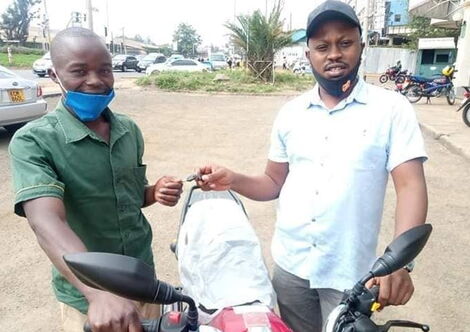 Internet star Alvan Gatitu (right) with Wafula Kizito (left).
As narrated by Activist Ndungu Nyoro, Gatitu went and bought the motorcycle for the guard and even got a number plate and a license for it.
Without any delay, the bike had already been transported to Kizito's home town in Navakholo Constituency, Kakamega County.
Gatitu also opened a bank account and deposited some money for Kizito's wife to also run a small business. The watchman has since resigned from his work and left Nairobi this morning for his home town.
The former Tusker Project Fame contestant took to his Facebook page at around 5:30 a.m. on Sunday, July 5, to narrate how he came home only to find the gate locked, with calls to both his landlord and estate custodian going unanswered.
"My last resort is right here where I found a place to sleep. I thought that this friend of mine could help me but as soon as I got to her gate, she told the security guards not to let me in. I then explained my situation to the guards who laid out a carton for me in their storeroom and gave me a duvet as well," he explained in disbelief.
Kizito explained that the Tik-Tok star did not appear to be a bad person and so he offered him a place to sleep. The following morning, the guard took Gatitu to his home in Kawangware for breakfast.
After posting a video on the incident, Kenyans of goodwill came to the rescue of the singer raising Ksh2.1 Million in a span of two days, Nyoro revealed on his Facebook page on Tuesday, July 7
Related