Time Ruto Told Off Bloggers Over Reports of Beating His Wife [VIDEO]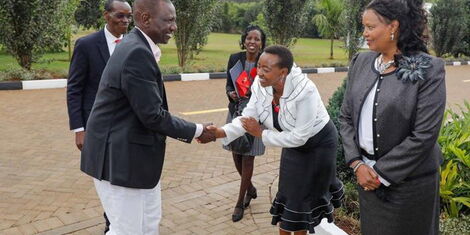 For the last couple of days, the internet has been awash with rumors that Deputy President William Ruto's marriage is on the rocks.
From a trending hashtag #Rutothewifebeater to fake newspaper headlines like 'Rachel in hiding?' all have polarised social media in a span of two days.
It is not the first time the DP and his wife have found themselves in such a situation.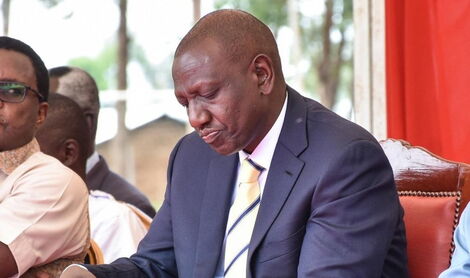 Deputy President William Ruto during a past event.
During an interview on Churchill Show in 2008, the DP stated that the alternative media space targetted his family by writing articles that always alleged he and his wife were at loggerheads.
He stated that certain individuals aimed at tainting his name and alleged that he and his wife were having marital problems.
The DP further praised his wife for not paying attention to what bloggers were saying.
"I am lucky I have an angel for a wife because the kind of things they write about me… Even this woman (referring to Rachel Ruto) is supposed to be in Germany according to one of the gutter press.
"Oh Ruto fought his wife because she tried to poison him, Ruto beat his wife because he has another girlfriend by the name Emmy Kosgei, you cannot imagine," Ruto stated at the time.
The same predicament is currently facing the couple, with a section of Kenyans online alleging that they are currently not in good terms.
It started with rumours being peddled on social media that a 27-year-old woman, allegedly a house help at Ruto's residence, had gone missing after revealing the DP was beating his wife.
The lady in question reportedly stated that Rachel was seeing a physician over bruises she had sustained.
It is then that netizens started commenting about the incident, most of them insisting that the couple had a good relationship.
"They say where there is smoke there is fire," Nancy Kamungu stated.
"To bloggers, you can do better than that. Tarnishing deputy president's personal life and his marriage affairs because of cheap political mileage is wrong," one social user identifying herself only as Chebet stated.
"I differ with Ruto's draconian tactics in handling opponents but when it comes to family, he's a leading role model," Abuga Makori stated.
Below is the video:
Related