Top Radio Stations in May 2020 Ranking – GeoPoll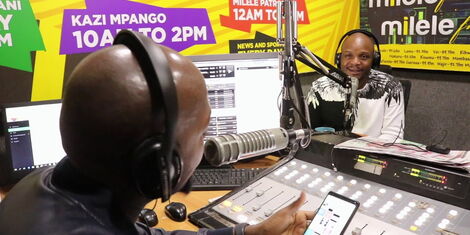 Radio Citizen under the Royal Media Services (RMS) continues to lead the radio rankings in Kenya, a GeoPoll report for the month of May 2020 revealed.
At the same time, Mediamax's Milele FM  registered a stable climb to take the second position edging out Standard Media Group's Radio Maisha which placed third. Radio Jambo was placed fourth.
"Swahili stations take the lead in the first four slots. However, of the four Swahili stations, only Milele FM has shown steady growth for the 3 months growing from below the 1 million mark unto the 1 million mark.
"This made Milele FM move to position two in May 2020 displacing Radio Maisha," the research company noted.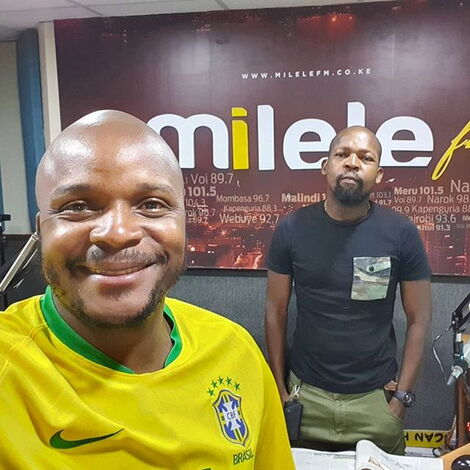 In front: Felix Odiwour (Jalang'o) with Milele FM co-host Alex Mwakideu at MediaMax studios on Friday, April 17, 2020
INSTAGRAM
The station reported good numbers especially in the weekday morning show between (6 a.m and 10 a.m) hosted by media personalities Jalang'o and Alex Mwakideu recording average numbers between 1- 1.4 million listeners on average.
In the May 2020 ranking, Kiss FM in the first English station placing fifth in the overall ranking. The station displaced Classic FM under the same Radio Africa group. Classic FM that hosts the Maina and Kingangi morning show has been gradually losing audiences to Kiss FM.
A number of vernacular stations have also featured on the top overall ranking with Inooro FM, Kameme FM and Ramogi FM placing seventh, eighth and ninth respectively.
Hot 96 FM completes the top 10 list with NRG Radio at eleventh.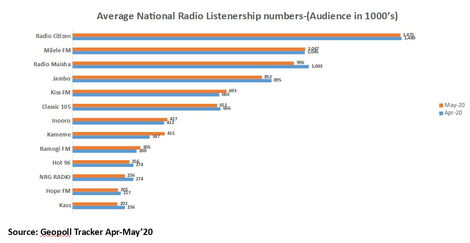 Radio Rankings by GEO Poll for the month of May 2020.
The research company observed that even with the Covid-19 pandemic, radio consumption across the day and night has continued to rise.
"Altogether, with consumers spending more time at home, their listenership and viewership attention is being split across the traditional media of TV and radio, as well as other media platforms including social media.
"Seeing as the Government of Kenya has issued further directives of restricted movement, we anticipate a further increase in TV viewership and recognize that sustained dips in radio listenership are possible," an April 2020 report by the company disclosed.
Data is specific to persons aged above 15 years old nationally, both males and females. The data analysed was from 6 a.m. to 12 a.m. Additional analysis is available by specific times of the day and further by location and key demographics.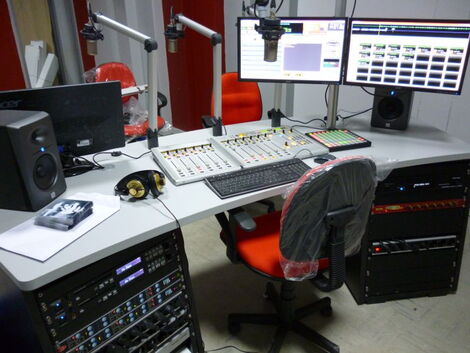 A control station at a radio studio
Related