Truck Driver Wins Ksh4.3M After 9-Year Wait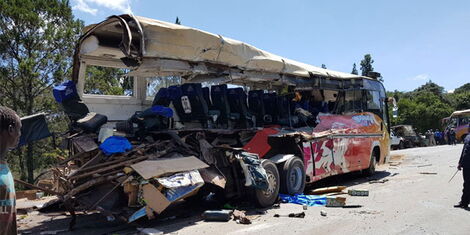 A truck driver was awarded Ksh4,320,000 as compensation for being amputated after being involved in an accident at Salgaa, Nakuru on November 1, 2011.
Ahmed Shariff's legs were amputated after suffering serious injuries in the grisly accident.
The High Court made the ruling in early July, upholding a verdict delivered by a Magistrates Court on May 25, 2017.
The Magistrates Court had faulted a private company's vehicle for causing the accident by overtaking carelessly and causing a head-on collision with the truck driver.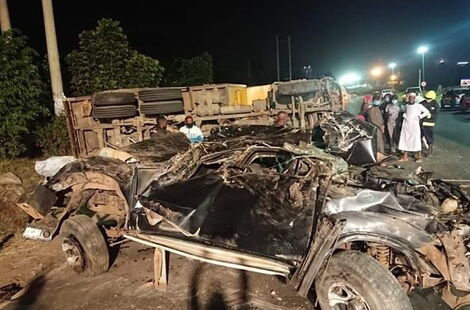 The wreckage of a car that was involved in a road accident along Mombasa Road on May 23, 2020.
Also read;
The lower court had also directed the private company to pay Ksh4.8 million in compensation with High Court judge Justice Teresia Matheka reducing the amount by Ksh480,000 after ruling that Shariff was 10% liable for the accident with the private company incurring 90% of the cost.
"I find no reason to interfere with the awards on general damages. However, in the circumstances of the evidence, it cannot be said that the defendant was wholly to blame for the accident," Matheka stated.
The judge added that the complainant suffered body injuries which led to massive blood loss and hemorrhagic shock which led to the amputation.
Statistics by the National Transport and Safety Authority indicate that as of April 13,  the number of passengers who have lost their lives on the road has gone down compared to the same period in 2019.
In a survey conducted in early 2020 by the authority, 156 passengers had died by April 13 compared to 205 who succumbed by the same period in 2019.
On the other hand, more pedestrians (367) have lost their lives since the year began compared to 348 who died in 2019.
In addition to pedestrians, other vulnerable road users –, motorcyclists, and cyclists were prone to being casualties of road accidents.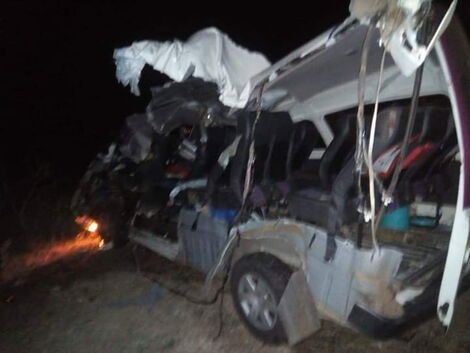 The aftermath of a grisly road accident involving a lorry and two 14-seater matatus at the Kingaatuani downhill in Masii, Machakos County on Friday, July 10, 2020
Related