Turkana Governor Asks Residents to Use Cow Urine as Sanitiser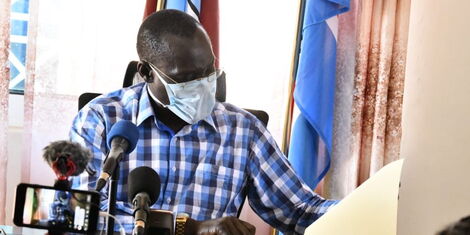 Turkana Governor Josphat Nanok had a piece of rather peculiar advice to his residents after on how to disinfect and stay safe from Covid-19.
The governor was addressing the media on Thursday, May 14, in ways to combat the deadly Coronavirus that is a global pandemic.
Nanok urged the people of Turkana that using soap and water was superior to sanitizers but in the absence of all three, he recommended an age-old technique of 'disinfection' by using cow urine.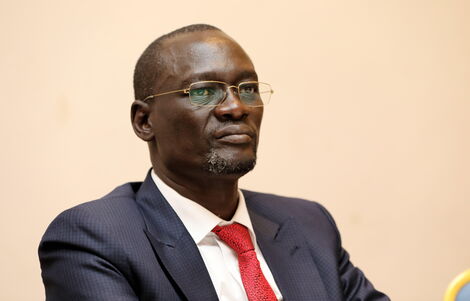 Turkana Governor Josphat Nanok at Movenpick during the Council of Governors meeting in Nairobi.
"The first frontline is to wash your hands with soap. I think to me that is the most effective way. Use sanitisers only when you cannot access water and other things.
"I've seen people using cow urine, they are using the same old technique. In fact, they have been using it to disinfect the cow udder before milking it and it has been very effective.
"They have adopted that without asking because they know it is effective but I think the responsibility is for all of us," noted the governor.
TMZ.co.ke spoke to Professor Mwatilu Mwau an infectious disease specialist to find out the effectiveness of cow urine in disinfection.
"Cow urine cannot disinfect but it will keep hands clean, it is not a disinfectant but it is mostly comprised of water so it will keep their hands clean.
"Because in the area water is scarce then it will work as a substitute for water, of course, you hope that the cow does not have diseases because cows also get diseases like sexually transmitted diseases due to their promiscuous nature," explained the professor.
Mwau went on to add that cow urine has little ammonia content which will not be effective in the disinfecting process but noted that the method is reasonably safe.
In the briefing, Nanok also wanted truck drivers from Uganda using the county as a transit route to follow the guidelines set by the Ministry of Health.
"The high-risk areas which we are watching closely are the trucks drivers. I think that is a very risky group as we have seen in other areas going into Uganda," noted Nanok.
The former Council of Governors chair (CoG) urged truck drivers planning to pass through the county to have the most recent valid certificate that has been obtained either in Kitale, Eldoret, Nairobi or Mombasa.
Related