Two Construction Workers Escape Death as Road Caves In [VIDEO]
Two construction workers in Mombasa on Monday, June 19, had a narrow brush with death after the site they were digging collapsed and buried them alive.
The workers who were were on site at the Makupa round-about were rescued by residents who moved to clear the debris.
Emergency services responded quickly to the scene as they collaborated with locals to give them first aid.
A resident who spoke to journalists at the scene stated that the ongoing construction had many hazards that not only risked the lives of the worker but also road users.
"There are no barriers preventing motorists to use the side of the road that is under construction. At the same time, there were no poles to hold the structure as the men dug underneath and that is why it fell on them," the man who was among the first responders stated.
He further faulted the county government and the contractor for not taking into consideration the safety of the workers.
"What will happen now? The injured workers will just be replaced by others and the work will continue. The standards of the work environment should be improved," he stated.
The Makupa causeway is a project under the Kenya National Highways Authority (KeNHA) who earlier in June revealed that it would be completed in two months' time.
Construction of the stretch which is expected to ease traffic in Mombasa is part of the Ksh6.5 Billion Kwa Jomvu-Makupa Causeway project.
The construction has taken two years which has seen major traffic in the area.
The causeway is part of the larger Mombasa-Mariakani highway, whose construction was officially launched by President Uhuru Kenyatta in 2018.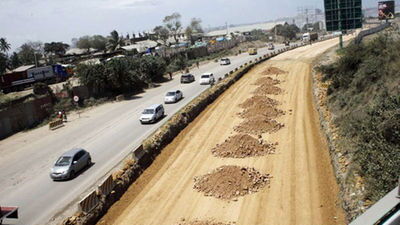 The ongoing construction at the Makupa Causeway
Related