Two Deaths Reported as Matatu Rams Into Lorry [VIDEO]
Two people lost their lives on Wednesday, July 15 after a matatu they were travelling in rammed into a lorry along the Mutarakwa-Mai Mahiu road.
It is alleged that the matatu's breaks failed, leading to the driver losing control after which he collided head-on with the oncoming lorry.
The driver was among the casualties reported as he lost his life on the spot while a passenger died in a hospital in Limuru.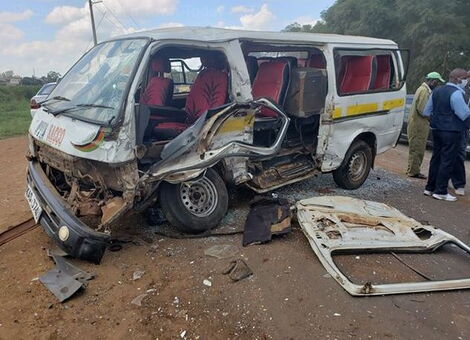 A matatu involved in an accident on Wednesday, May 27 at the Thika flyover near the Ngoingwa-Murram road junction.
The driver's body was taken to Tigoni mortuary while the passengers who were lucky to survive are being treated in various hospitals around the area.
Eyewitnesses claim that the matatu had lost its breaks and called upon the government to put up bumps in order to curb accidents.
"The lorry was from Mai Mahiu and was carrying sand, with the speed at which it was moving we suspect the matatu driver had lost his breaks," explained an eyewitness.
"We have witnessed a lot of accidents in this area, we urge the Government to erect speed bumps to reduce the speed of vehicles passing through here," noted a resident.
Since President Uhuru Kenyatta lifted the cessation of movement order on Monday July 6 there has been a slight increase in the number of accidents.
More people are now travelling around the country and with the 9 pm to 4 am curfew still in place a number of transport operators are aiming to beat the timing.
Five people perished in a grisly road accident involving two 14-seater PSV Matatus and a lorry on Friday morning, July 10.
During the cessation of movement order the number of passengers who have lost their lives on the road had gone down compared to the same period in 2019 ccording to NTSA, as of April 13.
In the latest crash survey by the authority, 156 passengers had died by April 13 compared to 205 who succumbed by the same period in 2019.
Related