Uhuru Experiences Audio Failure During Live Meeting [VIDEO]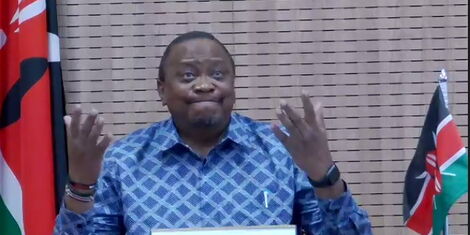 President Uhuru Kenyatta was in an all too familiar situation to those who have experienced technical difficulties during a virtual meeting.
Poor audio connection threatened to lock President Uhuru from giving his views to fellow leaders, on Friday, June 26, during Corporate Council on Africa Leaders Forum.
The session with Ghana's President Nana Akufo-Addo was hosted by Ambassador Linda Thomas-Greenfield. The audio issue arose when it was time for President Uhuru to deliver his opening remarks. Ten seconds into his section, the ambassador pointed out that the Head of State was muted the entire time.
Visibly frustrated Uhuru gestured at his technical team to fix the issue, after which, the host gave the go-ahead to the Ghanian president to issue his remarks as the Kenyan team sorted out the audio malfunction.
"We know you have important issues to address and we look forward to hearing from you when your team fixes the audio," Ambassador Linda stated.

President Uhuru Kenyatta (right) gesturing during a virtual forum with Ghana President Nana Akufo-Addo on Friday, June 26.
YOUTUBE
The president, clearly frustrated, gestured at the camera remorseful for the mishap as his technical team switched the accounts on the zoom meeting to ensure proper connectivity.
The president could be seen speaking to his team over the matter. As Addo was giving his presentation, Uhuru's link came back up and he rejoined the meeting.
"My sincere apologies for the technical difficulty, we have fixed now and I hope you can hear me clearly," Kenyatta stated.
The host confirmed that he had been reconnected and the president went on to give his remarks. In the forum, stated that Kenya aimed at concluding the free trade agreement (FTA) with the US ahead of the expiry of the AGOA arrangement in 2025.
"We are still on schedule to start negotiations which are scheduled to start on July 7th," President told the forum.
While acknowledging that Covid-19 response measures had helped save lives, the President noted that the interventions have led to negative economic effects.
He said the informal sector, tourism and the hotel industry suffered the heaviest burden adding, that his administration had put in place measures to cushion vulnerable communities and businesses from the adverse effects of the pandemic.
On the flip side, President Kenyatta said the health crisis had created an opportunity for Kenya's manufacturing sector to demonstrate its resourcefulness by producing supplies needed to contain the disease.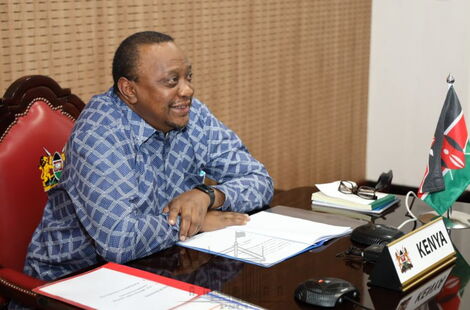 President Kenyatta at State House, Nairobi during a virtual leaders forum on US-Africa trade convened by the Corporate Council on Africa (CCA) on June 26, 2020
Related