Uhuru: How I Spend my Days in Wake of Covid-19 Pandemic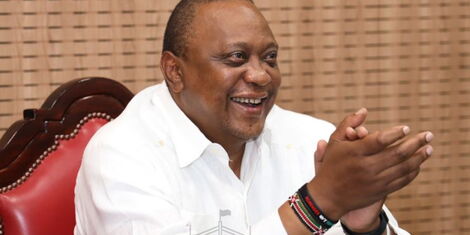 Most Kenyans have had to adjust their day to day lives to fit in measures set by the government to combat the spread of COVID-19 in the Country.
President Uhuru Kenyatta is no exception from this new normal disclosing that he now uses more of technology to run daily activities with minimal human interaction.
Speaking to Daily Nation's John Kamau in an exclusive interview, the president narrated that he, too, had to adapt to the changes brought about by the disease.
"It is a very challenging time. We're using more of technology. My day is usually the same as it was previously although there was more face to face interaction then," the president stated.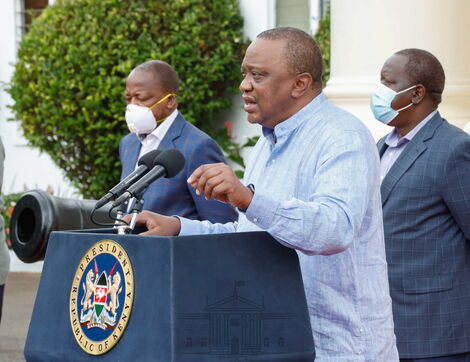 President Uhuru Kenyatta speaking at State House on May 23, 2020
Kenyatta disclosed that he starts his day by receiving briefs from the police, the military, the intelligence teams as well as receiving updates from across the country.
"We discuss individually and collectively and agree on the kind of posture to take," he continued.
He also has virtual meetings with his Cabinet Secretaries who update him on how the dockets are being handled and how different projects are being run, especially in the wake of the pandemic.
The Head of State spends the rest of his day engaging with other world leaders, exchanging ideas on how to get Covid-19 solutions.
This, he stated, has helped Kenya learn a lot from other countries, some of whom did not take the disease seriously and in turn, suffered grave consequences.
"We are moving on recognizing the very real danger that if we go about it too fast and without a plan, we will be digging graves as we have seen in many parts of the world," he added.
Also, the head of state noted that balancing between people's lives and livelihoods has been very difficult. He, however, stated that he has a team that gives their input on how to protect Kenyan's lives.
"Kenyans will be fine as long as they adhere to protocols set by the Ministry of Health," he concluded.
President Uhuru Kenyatta (left) and Tanzania President Pombe Magufuli (right) enjoy a light moment after the former visited the later in Tanzania in July 2019
Related