Uhuru in AU Mediation Meeting Over Nile Dam Dispute
President Uhuru Kenyatta on Tuesday, July 21 took part in a virtual meeting of the African Union (AU) Bureau led by South African President Cyril Ramaphosa.
The meeting was convened to review progress made in the AU-led mediation process to resolve a row involving Ethiopia, Sudan and Egypt over the Ksh480 billion Grand Renaissance Dam (GERD) project in Ethiopia.
Egypt has vehemently opposed the filling of the dam arguing that it would deprive their country of important water from the River Nile.
Kenya has observer status in the AU-led mediation process, with Uhuru pushing for an African-driven solution to the dispute.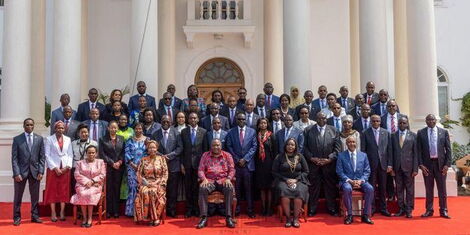 President Uhuru Kenyatta enjoys a hearty moment during a virtual meeting at State House on Tuesday, July 14, 2020
During the meeting also attended by Ethiopian Prime Minister Abiy Ahmed, Uhuru commended the AU team for steering the process effectively so far.
Also read;
"I further join the Chair and Colleagues in commending our distinguished experts for the detailed feedback report and the progress made in the negotiations within a short timeframe, despite the complexity of some of the issues that they've had to deal with.
"This process has vividly shown that 'African solutions to African problems' is the way to go. We can resolve our disputes through negotiations and mediation within the framework of the African Union," he stated.
The President voiced his expectations that the tripartite negotiation process would lead to a "mutually acceptable and sustainable resolution" of the dispute.
He, however, observed that unilateral actions taken by any of the three countries posed a threat to the negotiations.
"I urge all stakeholders to continue adhering to the commitment and to refrain from taking actions or making statements that may jeopardize the negotiation process and reverse the gains made so far," he asserted.
Also present at the meeting were Egyptian President Abdel Fattah Al-Sisi and Sudan Prime Minister Abdalla Hamdok.
Ethiopian PM Abiy Ahmed voiced his support for the AU-led mediation process stating his hope that it would lead to a timely resolution.
Others present at the meeting included AU Commission Chairperson Moussa Faki Mahamat, DRC President Felix Tshisekedi and Mali President Boubacar Keita.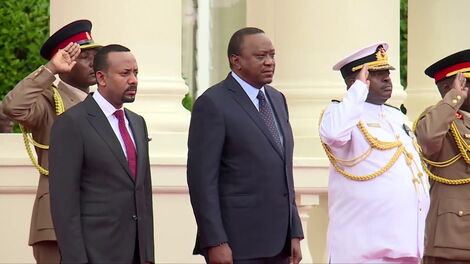 Ethiopian Prime Minister Abiy Ahmed (left) pictured during a past meeting with President Uhuru Kenyatta
Related