Uhuru Leaks Plans to Lift Nairobi Lockdown [VIDEO]
President Uhuru Kenyatta has disclosed plans to lift the lockdown that has restricted movement into and out of Nairobi and Mombasa counties as a measure meant to curb the spread of 
coronavirus.
He indicated that time has come for the government to lift the lockdown while strictly adhering to the World Health Organisation's guidelines.
"We are opening the inter-county lockdowns," President stated during an online session the Corporate Council on Africa Leaders Forum on Friday, June 26.
President Uhuru Kenyatta had imposed a ban on movement in and out of four main coronavirus "infected areas", including the capital, Nairobi, before the usually busy Easter weekend of April 6.
In a televised address to the nation, Kenyatta stopped short of announcing a full lockdown within these areas but warned, "we must be ready to go even further if necessary."
While addressing a question on the resumption of international flights, Uhuru stated that the country would first operationalise domestic flights.
For this to be possible, the restriction of movements in the counties would have to be eased.
"We are going to be starting domestic flights and this is what we are going to use for the next couple of days because we are opening up the counties. We will be [opening] the inter-county lockdown," he stated.
Without revealing the dates planned for the Uhuru explained that even though the government was eager to open up the country but caution was top of mind in making the decision.
"The slow resumption of domestic flights will set the pace for us getting a date for opening up international flights," he added.
He noted that the delicate balancing of the health of the people and the economy would inform the decision to open up the counties.
"Since the pandemic, there has been just over 5,000 cases with 130 fatalities in Kenya. The country has also enacted border closures and school closures in order to contain the virus, while also ramping up increased testing and contact tracing," he stated.
President Uhuru Kenyatta (top left) during a virtual meeting on the Corporate Council on Africa Leaders Forum on June 26, 2020.
The president on June 6, extended the cessation of movement in and out of the Nairobi Metropolitan area, Mombasa and Mandera would be extended for a further 30 days.
At the same time, he ended a lockdown on Eastleigh estate in Nairobi, and Old Town in Mombasa and the counties of Kwale and Kilifi.
While addressing Governors in a virtual meeting from Statehouse on June 25, Uhuru revealed that re-opening of the country's economy would depend on the level of preparedness by the counties to respond to Covid-19 infections.
He asked Governors to take a leading role in curbing the spread of Covid-19 infections before he could reopen the economy.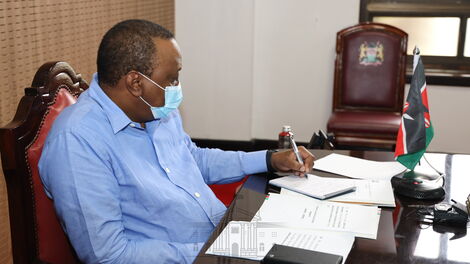 President Uhuru Kenyatta chairing a virtual meeting with Governors on Thursday 25 June 2020.
Related