Uhuru, Raila Lay Ground for Building Bridges Initiative Referendum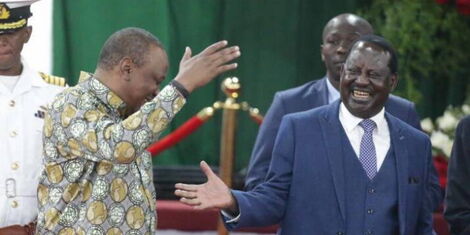 President Uhuru Kenyatta and Orange Democratic Movement (ODM) leader Raila Odinga have kickstarted the much-awaited Building Bridges Initiative referendum, by gazetting the Referendum Bill 2020.
On Friday, May 15, via the Kenya Gazette, the bill was mentioned as a supplement.
Law Society of Kenya President Nelson Havi explained that the bill would be published later on and availed to Kenyans after former Senate Majority Leader Kipchumba Murkomen clarified that it had already been processed in Parliament.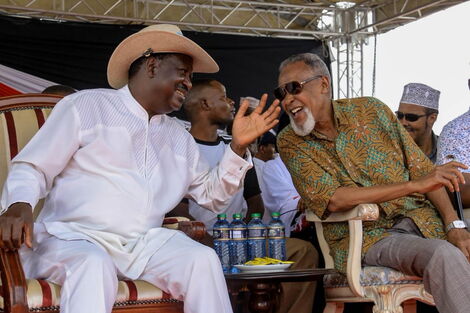 Raila Odinga and BBI taskforce head Yusuf Haji enjoy a hearty moment during the BBI Garissa rally on February 23, 2020.
"The bill is not fake. It was developed sometime back by the Constitutional Implementation Oversight Committee (CIOC) in the National Assembly," Murkomen explained.
"The bill is a large book and cannot be included in the gazette. All they have to do is mention it. The bill will be printed by the Government Press and be available at relevant websites," Havi explained while speaking to TMZ.co.ke.
Odinga, in a number of interviews, ever since the Coronavirus pandemic broke out in Kenya, has emphasised that the referendum is inevitable. His allies, led by Siaya Senator James Orengo have also been insisting that the referendum would take place in June 2020.
The BBI Committee, under Garissa Senator Yusuf Haji was tasked to present a conclusive report to Kenyatta and Odinga by June, the same month its (the committee) term expires.
"The Haji steering committee can release the report with a draft bill and we hit the road immediately. And as it stands, getting a million signatures (for the referendum) is not difficult," Orengo stated in March 2020.
Several developments have taken place in the few months, with Kenyatta making changes in Jubilee leadership, as a way to seemingly pave way for the looming referendum. The Head of State is on a purge against Deputy President William Ruto's allies who have opposed the initiative.
On Wednesday, May 13, Jubilee Secretary General Raphael Tuju disclosed that Kenyatta's chopping board was heading to the National Assembly.
On Thursday, May 14, Odinga met with his party members both in the Senate and National Assembly, with reports suggesting that he would also make changes within his party. Odinga reportedly told those in attendance that he would not move into government with Kenyatta until the BBI changes take shape.
LSK President Nelson Havi, poked holes into Kenyatta's administration, arguing that the referendum bill may be passed by Parliament without any opposition whatsoever, as Kenyatta had infiltrated the house, affecting its sovereignty.
"Parliament was muscled out upon its first convening following Kenyatta's presidency in 2013. The traditional practice was that speakers would be elected in the house in fair elections in the glare of the public, but Jubilee, upon having the numbers, proceeded to State House where they coronated leaders who would then be installed.
Compare that to 2008  when former National Assembly Speaker Kenneth Marende defeated Francis ole Kaparo in a fair election. Parliament was sold out and Murkomen and Susan Kihika (former Majority Chief-Whip) realized this when it was late. I cannot blame the Executive as it will always try to pin down Parliament. Remember the opposition was also sold out after the handshake. We have no Parliament," Havi lamented.
Nafula Kisiangani, a political analyst and development practitioner, had also raised similar concerns while speaking to TMZ.co.ke. on Wednesday, May 13, arguing that the president should respect the independence of Parliament.
"The Executive is overstepping and this is something I do not respect. Parliament is sovereign and judging on how Kenyatta wants to crack the whip on it, it's ability to conduct oversight on the Executive would be affected. Kenya does not have opposition and we are relying on Parliament to defend Kenyans, but the legislators are afraid to speak or criticize for fear of being victimized.
"As Kenyans, we are happily cheering on, not knowing what lies ahead in the future. I don't believe we are heading in the right direction," the analyst opined.
The Referendum Bill published in the Kenya Gazette on Friday, May 15, 2020
Related