Uhuru Rewards 3 Cooks Feeding Police At Koma Roadblock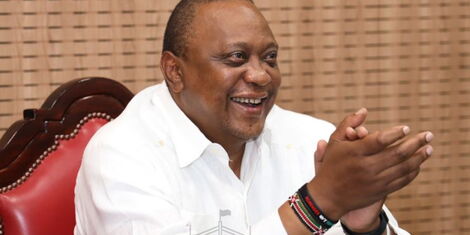 President Uhuru Kenyatta rewarded three cooks during the virtual Madaraka Day celebrations held at State House on June 1, 2020.
The three women warmed his heart after a report in the media featured them cooking for police officers manning the Koma roadblock.
Also read;
Priscilla Kioko, Rebecca Mutua and Faith Mailu were given The Presidential Order of Service, Uzalendo Award after being featured on Citizen TV's bulletin of April 29, where they explained how they were inspired to feed the police officers.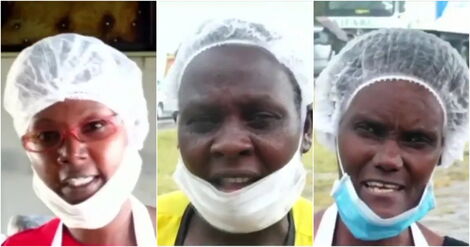 Priscilla Kioko (left) Faith Mailu (centre) and Rebecca Mutua were rewarded by President Uhuru Kenyatta on June 1, 2020, after volunteering to feed police officers manning Koma roadblock
"We passed by this place on Saturday and noted that these officers were very thirsty and didn't have any water. We gave them sodas.
"When we passed by the area in the evening, they told us to bring them food and that is when we made the decision to be feeding them," Faith Mailu stated.
Surprisingly the women had initially thought about supporting the officers individually until they met each other at the roadblock and decided to collaborate.
Priscilla is a lawyer and a hotel operator who volunteered her premises and equipment for the noble cause.
Also read;
On May 1, Interior CS Fred Matiang'i and Police IG Hillary Mutymbai caught the women unawares during an impromptu visit to the Koma roadblock.
"I had the pleasure to meet the gracious ladies who are voluntarily supporting our officers at the Tala checkpoint. On behalf of President Uhuru Kenyatta and the government, I thank them.
"They exemplify Kenya's spirit and the much-needed synergy between citizens and security organs," Matiang'i praised.
President Kenyatta also recognised Amina Ramadhan, a police officer from Embakasi who won the hearts of many Kenyans for assisting an overwhelmed mother who was stranded on the first night of the curfew on March 27.
She calmed down the stranded mother and helped her contact her husband who picked them up, contrasting with many of her colleagues who that night descended upon Kenyans with whips and batons while enforcing the curfew.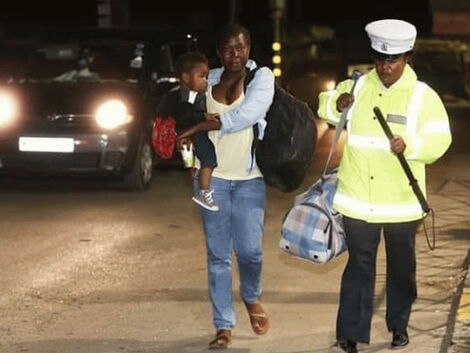 Amina Ramadhan, a police officer from Embakasi assisting an overwhelmed mother who was stranded on the first night of the curfew on March 27
Related