Uhuru's Legacy Stained With Kenya's Worst Debt Level – US Report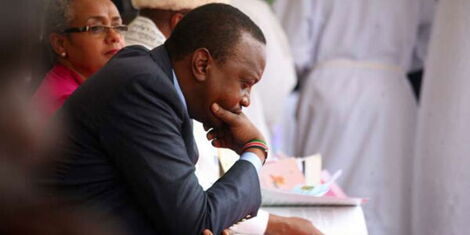 On Tuesday, July 14, S&P Global Ratings, a US credit rating agency revised Kenya's outlook to negative from stable detailing that the Coronavirus pandemic will slow down the country's Gross Domestic Product (GDP) growth in 2020, with its effects lasting towards the end of 2023.
The warning comes two months after Moody's also revised Kenya's credit rating outlook to negative, signalling that its next review could rate Kenya much lower if the situation prevails.
S&P is considered the largest of the Big Three credit-rating agencies, which also include Moody's Investors Service and Fitch Ratings. The firm is recognised by the U.S. Securities and Exchange Commission.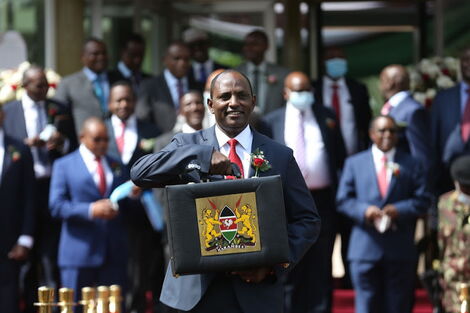 Treasury CS Ukur Yattani (right) poses for a photo at Treasury Headquarters, Nairobi on Thursday, June 11, 2020, ahead of Budget 2020/21 presentation
"Although external financial support, including from the International Monetary Fund (IMF), will help fund Kenya's twin fiscal and external deficits in 2020, external debt will rise sharply in 2020 and remain high in 2020-2023," an excerpt of a statement by S&P stated referring to IMF's decision to raise Kenya's risk of debt distress to high from moderate due to the effects of Covid-19.
In June 2020, World Bank offered Kenya a debt relief of Ksh $802.6 Million (Ksh 85.3 billion) in a plan to temporarily suspend debt payments by the world's poorest nations. Treasury CS Ukur Yatani asserted that the deal limited access to international capital markets for the period of the relief.
He argued that the terms could be a stumbling block to the country's ability to finance the deficit later on.
CS Yattani further revealed that Kenya and China were discussing a new debt relief deal after the government rejected a Ksh 3 trillion debt relief package due to stringent measures.
Kenya will spend Ksh 904.7 billion on servicing debt in the current financial year 2020/21. The country's public debt stands at Ksh 6.28 trillion with half of the loans owed to external creditors, while a third of it is owed to private creditors including holders of the country's two Eurobonds.
On Wednesday, June 3, President Uhuru Kenyatta raised concerns over the rate at which developing countries that form the Organization of the African, Caribbean and Pacific States are amassing debt.
The head of state identified the growing debt burden and existing economic sanctions among its members as challenges that are aggravating the negative effects of the Covid-19 pandemic.
"The debt of many states continues to rise. Forty-four (44) per cent of low income and least developed countries (LDCs) are in debt distress or assessed as being at high risk of external debt distress," President Kenyatta highlighted.
President Uhuru Kenyatta addresses a virtual summit of the Organization of the African, Caribbean and Pacific States (OACPS) on Wednesday, June 3, 2020