UN Adopts Powerful App to Fight Locust Invasion in Kenya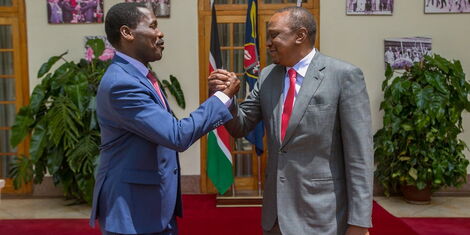 The Kenyan government in conjunction with the United Nations has taken advantage of a new innovation to fight the locust invasion in the country.
The United Nations Food and Agriculture Organization (FAO) shed light on the use of the app identified as the eLocust3M app, alongside members of the National Youth Service (NYS) to fight the invasion.
"Locust update: Second-generation hatchlings have begun along Suguta Valley. National Youth Servicemen whom we trained are moving in to finish them. Breeding sites are being meticulously mapped with the eLocust3M app," FAO announced on Friday, May 15.
The revamped version of the Elocust3M app was introduced on February 2020 (the original being 2015) to help in tracking and controlling what is predicted to be the worst locust invasion in the country in 70 years.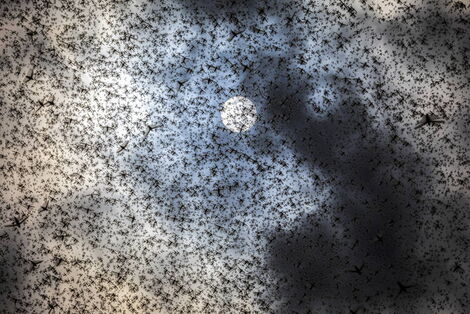 A swarm of desert locusts pictured in Kenya
UNITED NATIONS FOOD AND AGRICULTURAL ORGANIZATION (FAO)
The app is credited to David Hughes, a Pennsylvania State University (PSU) professor of entomology and biology and creator of Plant Village, an initiative to empower farmers with agricultural knowledge and technologies.
According to a report on the varsity's website, the smartphone app is used to locate and track the insects and then the data is sent to the disaster management base to assist in early warnings and targeted spraying efforts.
eLocust3M app survey report captures the following data; GPS location, locust type, hoppers instars [stages], the estimated area infested, control operations undertaken and also allows one to share pictures and videos.
In addition to identifying areas to target with spraying, eLocust3M enables the UN to provide advance warning to people and areas that have not yet been affected.
The app also monitors weather and pests and uses this information to predict crop productivity and offer guidance on recommended practices, such as affordable irrigation methods and flood mitigation tactics, that can help farmers adapt to climate change.
The Plant Village website indicates that a small swarm of locusts consumes the equivalent of food for 3,500 people in just one day thus prompting a quick response to mitigate the situation before it gets out of hand.
For this reason, the organization has trained teams from Isiolo County led by Albert Lemasulani, Samburu County led by Dominic Lteekwa, Marsabit County led by Fofen Lawrence and another from Turkana County.
"The community is engaging with Plant Village SMS number by sending coordinates whenever they spot desert locusts. The team responds by checking out the locations," the organization announced.
Related