Uncertainty as Uhuru's Nationwide Curfew Ends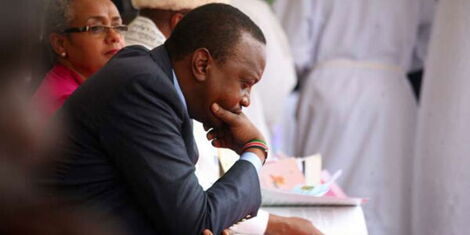 On Saturday, April 25, President Uhuru Kenyatta extended the nationwide dusk to dawn curfew that was initially declared on March 25, 2020, by 21 days.
The Head of State also extended the cessation of movement in and out of the Nairobi Metropolitan area, Mombasa and Kilifi with the same number of days.
Uncertainty mounts as the two directives come to an end on Saturday, May 16, with the country recording 758 Coronavirus cases, 42 fatalities, and 284 recoveries as of Thursday, May 14.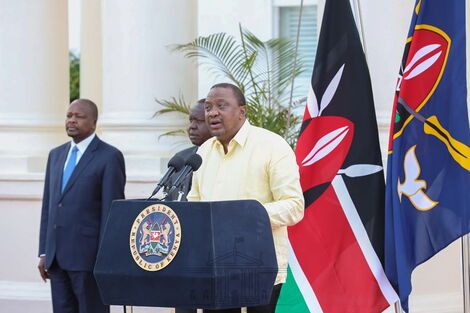 President Uhuru Kenyatta addressing the nation from State House Nairobi on April 6, 2020.
Developments
In the 21-day extension, significant developments have transpired, which will shape Kenyatta's decision on the curfew extension.
In Nairobi and Mombasa, which are the two major hotspots, the number of Coronavirus cases has increased, with Eastleigh (Nairobi) and Old Town (Mombasa) dubbed as core centres in the upsurge.
On Wednesday, May 6, Health CS Mutahi Kagwe declared a cessation of movement in the two estates for 15 days as he closed all markets and restaurants in the areas.
This means that the total lockdown in the two estates will end on Thursday, May 21, 5 days after the partial lockdown in Nairobi and Mombasa ends.
Porous Borders
"Our security personnel will upgrade their alert and response to measures in every border to ensure that porous borders and security threats do not compromise the response to the COVID-19 pandemic," Kenyatta stated as he extended the lockdown on Saturday, May 25.
However, there has been a significant rise in Coronavirus cases reported from the borders, especially Namanga and Isebania, between Kenya and Tanzania.
Health CAS Mercy Mwangangi, on Thursday, May 14, recognised that significant effort is required to be marshalled at the borders, as four Tanzanians were arrested sneaking into Kenya.
Tanzania has been put on the world map for an upsurge in Coronavirus cases, as President John Pombe Magufuli continues to overlook the danger of the disease. The nation has not set up stringent measures to curb the virus and further declined to announce the number of cases reported.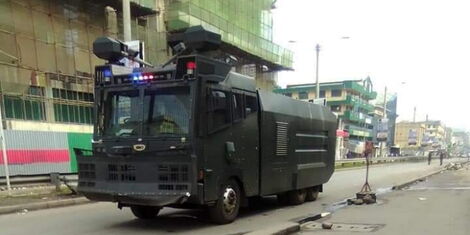 A police tanker spotted in Eastleigh, Nairobi, on Thursday, May 7, 2020
Police officers, despite being depended upon to help curb the disease, have been spotted taking bribes and aiding Kenyans to flout Covid-19 rules stipulated by the government.
Several reports have shown that they have aided individuals to sneak in and out of Eastleigh and also into Tanzania.
Resumption of Businesses
On Wednesday, May 13, the World Health Organisation warned that the virus was shifting from being a pandemic to an endemic, meaning that it would 'stay for long time'.
This means that countries have to find ways to live with the disease. This also explains the government's decision to reopen restaurants.
Education Cabinet Secretary George Magoha is also looking at ways in which schools may be allowed to reopen.
With these proceedings, a total lockdown seems to be off the table for Kenyatta.
WHO, however, warned that lifting of the lockdown and lessening measures would create a new wave of Coronavirus cases.
Scandals
The Health Ministry has also been in the spotlight for allegedly misappropriating funds. A breakdown of Ksh1.3 Billion spent in the fight against Covid-19 pandemic included Ksh42 million for leasing ambulances, Ksh4 million for tea and snacks, and Ksh 2 million for airtime.
CS Kagwe swiftly acted to protect his reputation by promising to make changes in his docket and at Afya House. He, later on, transferred 30 officials from his ministry as he declared war on cartels.
It was also reported that Kenya Medical Research Institute (Kemri) had run out of money and that it cannot replenish Covid-19 testing materials, protective gear and the much-needed reagents.
As the country ponders on the next financial move, Kenyatta was warned by a US multi-billion credit rating agency, Moody's, against taking more loans due to Kenya's inability to repay.
Vaccine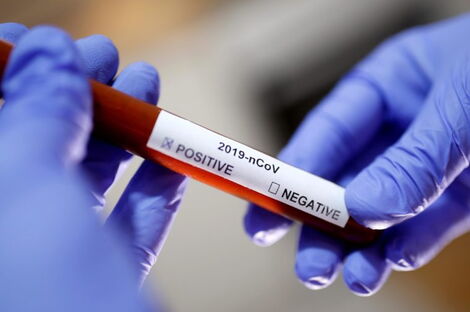 File image of a Covid-19 testing kit.
The country also witnessed confusion on the government's approach to have vaccine trials conducted in Kenya. Multiple reports noted that the country was considering to test a UK vaccine in Kenya subject to proper procedures being followed. This was after the government had denied approving the trials.
"Now that the Ministry of Health says Kenya is open to the testing of British vaccines in Kenya, let them be tested on members of the Cabinet and their families and thereafter all elected representatives and senior government officials," former Presidential aspirant Martha Karua led the onslaught against Kenyatta's government.
In his press briefing on Friday, April 24, Ministry of Health Chief Administrative Secretary Rashid Aman noted that the government would deliberate if the UK came calling.
"If this request comes to us, it will be scrutinised by the government before we respond to it. There are laid down procedures, which are rigorous for approval of any trial," said Aman.
Related