Update on Kibaki's Health at Nairobi Hospital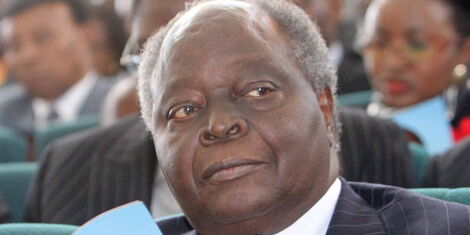 Retired President Mwai Kibaki has been in hospital since June 19, when he was admitted after experiencing abdominal pain.
Test results released on Monday, June 29, showed that the former head of state had nothing major to worry about.
Sources told NTV that doctors were managing the pain and that he was responding well to treatment.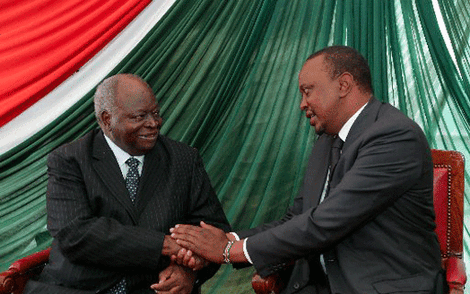 Former President Mwai Kibaki greets his successor Uhuru Kenyatta.
He was checked into the VIP wing of Nairobi Hospital where visits can only be approved by those close to the statesman.
One of his aides revealed that Kibaki had been visiting the hospital for a routine check-up once or twice a month.
He is rarely seen in public and his laid back nature makes Kenyans question his whereabouts every so often.
His last public appearance was during the late President Daniel Moi's funeral in February 2020.
Kibaki was spotted in Parliament where his predecessor's body had been lying in state.
His entrance caused a scene since the military, that was overseeing the ceremony, ordering everyone in the room to exit.
He was sneaked in through the back entrance and photos were taken of him paying his last respects.
Kenyans spotted his conspicuous shoes which were established to be orthopaedic shoes – specially designed footwear worn by people of all ages who suffer from uncomfortable foot mechanics.
They are aimed at supporting the structure of the foot, ankle and leg. The shoes mainly serve persons with swollen feet, heel challenges, diabetes, arthritis, and crucially, persons recovering from foot surgery.
Retired President Mwai Kibaki condoles with Rongai MP, Raymond Moi (left) and his younger brother Gideon Moi (Baringo Senator) after viewing the body of his predecessor the late Daniel Arap Moi at Parliament buildings on February 9, 2020
Related