US Ambassador Cautions Kenya on School Reopening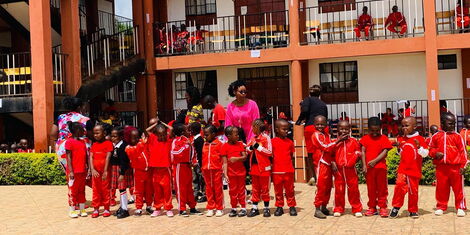 US ambassador to Kenya Kyle McCarter, on Thursday, May 28, weighed in on the ongoing debate regarding whether or not the government should reopen schools amid the Covid-19 pandemic.
In a morning interview on Ghetto Radio, the ambassador advised the relevant authorities to exercise caution, adding that the new normal could warrant a restructuring of the entire education system.
"I'd like to point out that I'm a visitor and that I am in no position to impose or advise the national government.
"With that said, I think we have to consider changing the way we educate our children. The current state dictates investing heavily in an online education system plan. Back in the US, we are in the process of finalizing such a plan and presenting it to the government for approval," he stated.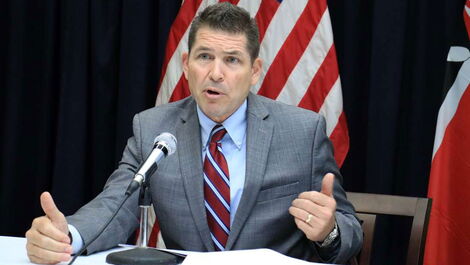 US. Ambassador to Kenya Kyle McCarter during a past press briefing at the US Embassy, Nairobi on May 2, 2019.
The envoy pointed out the Google Loon Kenya Project was timely as it meant that the country had the infrastructure in place to make e-learning a reality.
On April 3, data from Flight Radar showed that two balloons (HBAL092 and HBAL125) are currently airborne in Migori and Homa Bay areas, hovering at 60,000 feet.
Ambassador McCarter went on to caution against losing sight of the fact that the deadly virus was still a threat and that the directives on social distancing and sanitization needed to be maintained at all costs.
"Kenya is America's best ally in Africa, which is why we are currently training over 34,000 health workers and stationed our agents at all points of entry into the country where we have consequently stopped thousands of fake Covid-19 test kits from making their way into the country, in conjunction with Kenyan agents," he revealed.
The diplomat urged Kenyans not to read too much into the rising Covid-19 cases, saying that it was not necessarily a bad sign, but rather just an effect of carrying out more tests.
"You can't say that the numbers are rising, we simply haven't tested as many people. I think the figure is steady and I laud the national government for the measures it has undertaken to safeguard the people.
"I want us to free the economy as soon as is reasonable," he stated.
The education conundrum has been a thorny issue, with Kenya National Union of Teachers (KNUT) Secretary-General, Wilson Sossion asking the government to consider postponing the National exams to 2021.
"We would rather have all our children staying at home, safe and alive and repeating a year rather than sending them to school to die. The world will not come to an end if we suspend certain matters, the national exams, KCPE and KCSE, are not a ticket to heaven," he urged during a press briefing on Wednesday, May 27.
Knut Secretary-General Wilson Sossion addressing a press conference
Related