Video Kambua Wishes Never Hit the Internet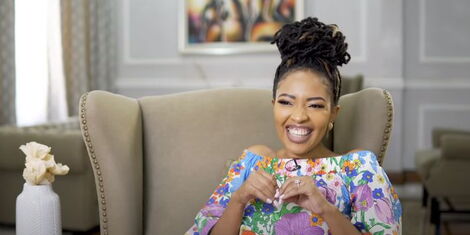 Award-winning gospel singer-songwriter and Citizen TV Presenter, Kambua Mathu, in a recent interview opened up on her most 'embarrassing' music video to date.
Speaking to fellow artist Richard Njau alias Astar in an interview that was aired in May 2020, Kambua could not control herself and burst out in laughter when Njau mentioned her 'nimeokoka' music video.
"You saw that video? You're like the only Kenyan who saw it. Did you manage to find it online," She asked. When Njau said that he had not found it yet, " Praise the Lord who causes me to triumph. A part of me would really like to see the video to remember where I came from but there's a reason why I'm just like acha ipotelee tu kule ilipotelea, (let it just stay incognito) " was her response in between fits of laughter.
She was convinced by her close friend, who happened to also direct the video that was shot at Parklands Baptist Church in Nairobi, that doing it 'all-natural' -without any make-up, would be a stroke of genius and she was directed to 'come as you are'.
Watch Kambua's narration below:
However, years down the line, the sultry-voiced singer has a different view and jokingly called out her director for 'lying' to her, "It was not a good idea. When someone says 'I woke up like this', it is usually after doing a lot of work behind the scenes," she explained while chuckling.
She further revealed that being her first-ever video, she distributed the recording to several media stations including KBC, but for some unknown reason, which she described as God working in mysterious ways, the video just seemed to disappear and was never really played on rotation.
Njau promised her that he would scour the ends of the earth to find the video and air it on their next interview, and he did.
Uknown to most, Kambua actually once appeared as a dancer in Jogg C's gospel hit Umeokoka.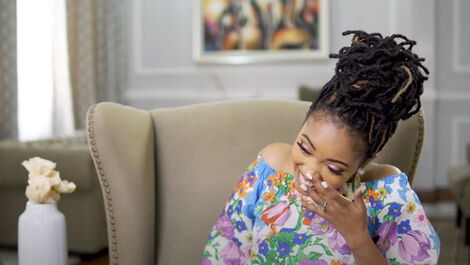 Award-winning gospel singer-songwriter and Citizen TV Presenter, Kambua Mathu.
YOUTUBE
She narrated how her close friend, the late Peter Kaberere, asked her to appear in the video and she was more than happy to, as her heart and soul were into it due to her relationship with the late singer and what he stood for.
The award-winning gospel artist has come a long way since then, with her Rauka Show on Citizen TV being one of the most-watched gospel shows in the country.
Her natural vibe and relatable character have endeared her to millions of fans, and her music has been clinching awards year in, year out.
Her first producer on the Rauka Show was actually Kanze Dena -Current Government Spokesperson and Kambua was quick to point out that Kanze played a huge role in her new TV career.
The Umetenda Mema hitmaker is currently raising her son Nathaniel alongside her husband Pastor Jackson Mathu and has been opening up on some of her struggles since the turn of the year, after a long period in which she shunned the media.
Watch Kambua's Nimeokoka video below:
Related