Village 157kms from Nairobi Gets Mobile Coverage for First Time
FILE
Kitui County residents from Nguuku village and its environs now have a reason to smile after a mast installed in the area by Safaricom went live on Tuesday, November 17.
This is the first time the estimated 30,000 residents living and working in the area will be able to use mobile phones without having to travel several kilometers for mobile connectivity.
Speaking to TMZ.co.ke, Paul Mutuku, a resident of the area expressed joy at being able to talk on his mobile phone from the comfort of his convenience store in the heart of the village.
"We are truly happy as we can now talk to our loved ones in other towns any time of the day. Prior to this, we had to plan well in advance on when one could leave the village to make such phone calls.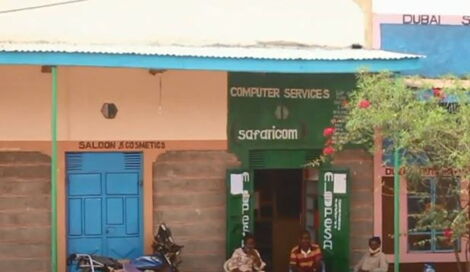 Residents seated outside a shop in Nguuku village, Kitui County.
FILE
The beneficiary sub-locations include Katia, Kanthungu, Kavaani and Ikime.
Mutuku's sentiments were echoed by local leaders who lauded Kitui Senator Enock Wambua for pushing to have the area on the network grid.
The event was attended by Senate ICT Committee Members, Esther Koimett, Principal Secretary in charge of Broadcasting and Telecommunications, Kitui County representatives, industry stakeholders, residents of Mwingi North among other officials from county government.
Area leaders said the move would be especially critical in coordinating security officers and enable them to work efficiently when tackling the cattle rustling menace in the area.
"The populations in the three sub-locations of Kanthungu, Katia and Kavaani are now connected to the fast-evolving telecommunication services and can respond and contribute to the national growth agenda as they resolve local concerns using ICTs as the enabler," Mercy Wanjau, the Ag. Director Communications Authority said.
The Communications Authority is targeting to construct more sites in five sub-locations during phase two of the Universal Service Fund (USF) Project and one more site in the Kitui County under the Universal Service Obligation.
Local entrepreneurs expressed optimism about how the move would help them explore new opportunities such us opening up M-Pesa shops and availing essential services such as the e-citizen platform.
Catch some footage of the excitement in Nguuku village below:
Related