Waitress Paralysed in Hit & Run Embarks on Life Changing 130KM Challenge [VIDEO]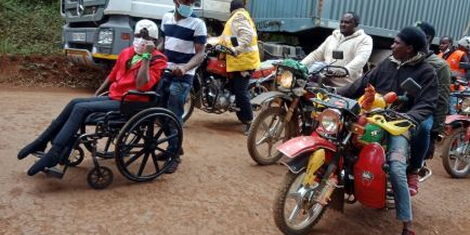 Dorothy Gachie was working as a waitress at a hotel along Thika Road when her life took a turn for the worst. One day when leaving working after completing her night shift at 5:30 am, she was rammed by a matatu while crossing the road.
12 years after the incident, Dorothy took on a challenge to wheel herself from her hometown in Embu to Nairobi in a campaign to raise Ksh2 million.
Speaking to TMZ.co.ke, Gachie stated that she opted to take on the challenge as July was International Disability Pride Month as well as her birthday month.
"I started the journey yesterday, together with my brother who is giving me support and also monitoring my health condition. We have gotten to Mwea Junction where we are resting and having lunch before we continue in the afternoon," she revealed.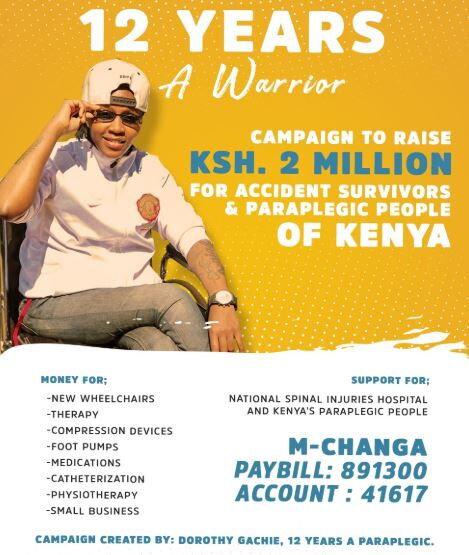 The campaign poster by Dorothy Gachie as she wheels herself from Embu to Nairobi.
She recalled that upon commencing her journey, boda boda operators in the area offered to escort her for a couple of kilometers in support.
Gachie added that she was inspired by Tony Hudgell, the 5-year old British boy who used his prosthetic legs to walk for 10 kilometers and raised Ksh100 million for the hospital that saved his life.
"I am wheeling myself to raise the money for my own motorized wheelchair and 50 other regular ones for Kenya's Paraplegic Community. Also, for medicine, surgeries, catheterizations, foot pumps, therapy and more. I intend to cover a distance of 130 kilometers," she disclosed.
In a compelling thread on Twitter, Dorothy disclosed her journey to living with a disability after the fateful accident where the matatu driver that hit drove off leaving her for dead.
She was admitted to various hospitals including Nairobi West Hospital, Kenyatta National Hospital and the Spinal Injuries Hospital in Hurlingham for treatment.
"It is a life of pain, tears, daily financial expenses, extreme depression, anxiety, suicidal thoughts, anger, trepidation, fear, sorrow, loneliness and darkness. A life in a bubble of pain and hope. A life of nightmarish flashbacks. A life of daily, bitter medicines," she narrated.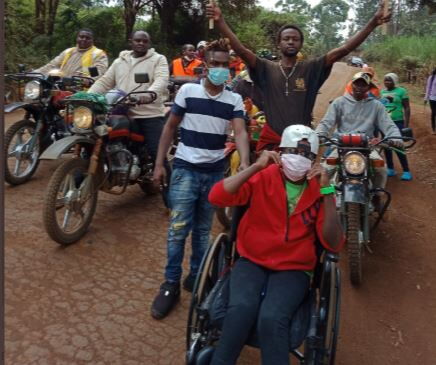 Dorothy Gachie with boda boda operators escorting her out of Embu town in her challenge on July 22, 2020.
Gachie added that she had battled depression, suicidal thoughts, tears, mental anguish which had taken a toll on her.
"I hope the power of my story, my past, my triumph and my testimony will override my little presence on this mighty app (Twitter). Hear me out, please. I'm a paraplegic. For 12 solid years. And it's been rough," she conveyed.
Watch the video of her journey so far below:
Related