Why MP Waluke May Lose Property While Serving Jail Term
The Judiciary has explained that Sirisia MP John Waluke will serve a 67-year jail term while his co-accused Grace Wakhungu will be in jail for a period of 69 years should they fail to pay their respective fines of around Kshs. 2.4 Billion.
The cumulative jail terms will only be halted in the event the two convicts will be able to make payments to compensate for the wrongdoings they committed while serving as directors at Erad Supplies and General Contractors.
However, The Office of the Director of Public Prosecutions (ODPP)  is now ready to put up their property for auction, in the event the two are unable to make cash payments.
"Going forward, we will not only ensure that individuals are jailed. We will also recover money lost from public coffers," the prosecutor stated on Friday, June 26.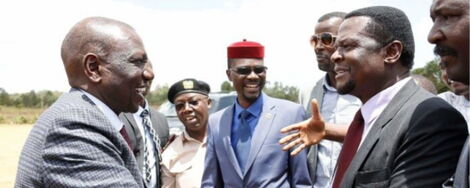 Deputy President William Ruto (left) greets Sirisia MP John Waluke (right) at an event in Bungoma County in 2018
Sirisia constituents have since taken the streets to demonstrate against the ruling and asked the government to set up a pay bill number for contributions.
"President Uhuru Kenyatta and Bungoma Senator Moses Wetangula should intervene. We want to raise the funds for our MP through a pay bill," agitated residents lamented.
Waluke's salary was also suspended after trial magistrate Elizabeth Juma directed National Assembly Speaker Justin Muturi to revoke the legislators monthly payment.
Chief Magistrate Juma's ruling was based on Section 63 of the Anti-Corruption and Economic Crimes Act which states that a public officer who is convicted of corruption or economic crime shall be suspended without pay with effect from the date of the conviction pending the outcome of any appeals.
The public officer ceases to be suspended if the conviction is overturned on appeal. The MP also faces the possibility of losing his seat.
"The conviction should be served to the Speaker and Parliamentary Service Commission for purposes of compliance of Section 63 pending appeal outcomes," Mutuku stated as Waluke's lawyers pushed for a non- custodial sentence which was denied.
Waluke's lawyer, Dunstan Omari stated that he will appeal against the sentence at the High Court on Tuesday, June 30, arguing that it was too harsh and unconstitutional.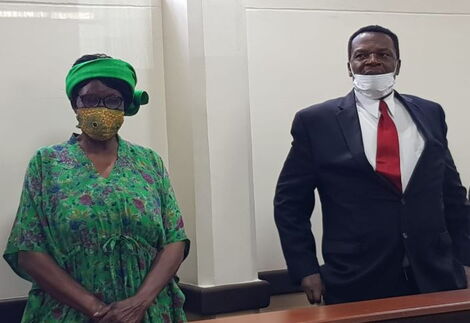 Sirisia MP John Waluke, and Grace Wakhungu in court on Thursday, June 25
Related