Why Mutula Kilonzo Wants Speaker Lusaka Impeached [VIDEO]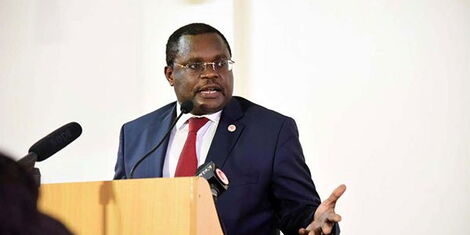 Senate Speaker Ken Lusaka faces impeachment after an adjournment decision announced during a sitting on Thursday, July 23 earned him the wrath of Senators.
The Special Sitting of the Senate had seen deliberations on the basis of revenue allocation continue before Majority Leader Samuel Poghisio, who called for the sitting, requested the Speaker to consider adjourning the session.
"I request as the Majority Leader on this side that the meeting be held on another day, at another time so that we can make conclusions Mr. Speaker," Poghisio stated to loud shouts from the Senators, prompting Lusaka to intervene.
Acknowledging that the discussions had taken too long, Lusaka directed the relevant Committee Chairman to take charge of the process and announced the adjournment of the session to Tuesday, July 28 leaving Senators furious.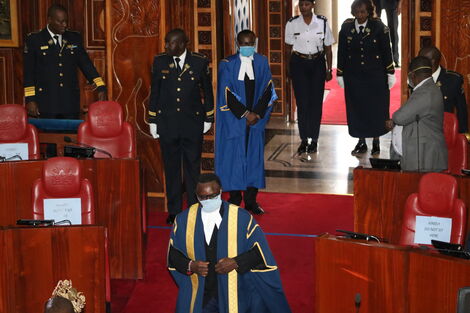 Senate Speaker Ken Lusaka makes his way to the chambers on Tuesday, March 31, 2020 donning protective gear
Chants of "Shame!" "Shame!" filled the air as Lusaka walked out on the Senators, with a majority of them incensed by his decision.
Among them was Makueni Senator Mutula Kilonzo Junior who proposed after the heated session that Lusaka be impeached over the action.
"We should impeach speaker Lusaka for adjourning the senate unlawfully! Bure (Useless)," he wrote.
A cash crisis in the 47 devolved governments has been cited as a likely consequence of the Senate delays in passing a formula on division of revenue.
The proposed formula is supposed to guide the sharing of revenue among county governments for the next three financial years, from 2020/21 to 2023/24.
The fight in the Senate has revolved around the adoption of a report by the Senate Committee on Finance and Budget on the amended revenue-share proposal from the Commission for Revenue Allocation (CRA).
Chaotic sessions have primarily been due to competing interests pitting Senators whose counties are set to gain more funds against those that could lose out under the new formula.
If passed, it will unlock the disbursement of Ksh316.5 billion to the 47 county governments.
Main factors considered in the latest formula include county functions, population, poverty, basic equal share, land area, development, personnel emolument and fiscal responsibility.
Watch part of the session in the video below:
Related