Why Uhuru Made Impromptu Visit to K24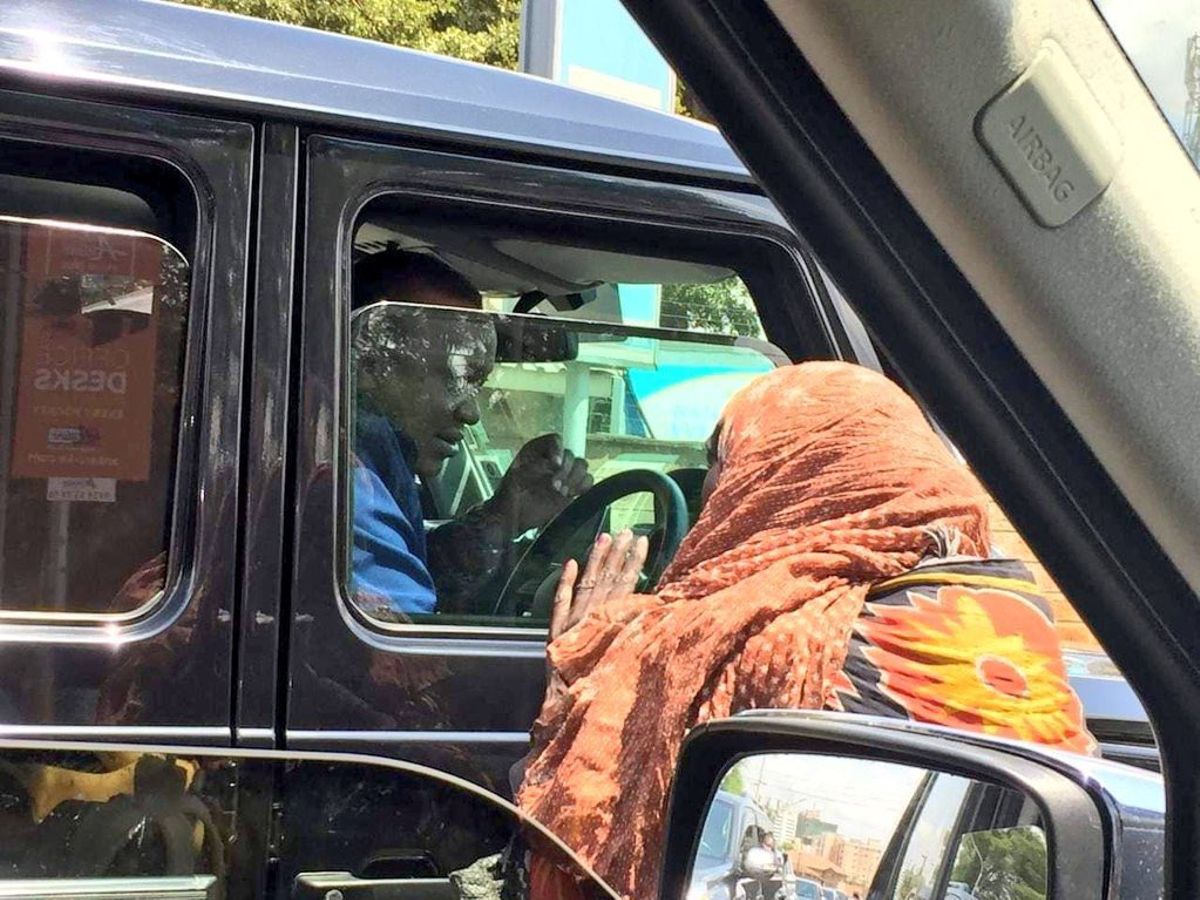 President Uhuru Kenyatta pictured driving himself in Nairobi on February 24, 2019.
President Uhuru Kenyatta was spotted at the offices of Mediamax Network Limited, which owns radio, print and television operations including K24, People Daily and Milele FM on Saturday, April 25.
The president's impromptu visit came at a time when the company has been rocked by internal wrangling over proposed pay cuts of up to 50% due to the Covid-19 pandemic, with a section of employees also pushing for the ouster of Chief Executive Officer (CEO) Ken Ngaruiya.
Uhuru reportedly made his way into the DSM Place headquarters of the company on Nairobi's Kijabe Street in his black Mercedes G-Wagon. He was trailed by at least three Toyota land cruisers, with staff members revealing that he arrived at around 6.30 p.m.
According to a source at the company who spoke to TMZ.co.ke on condition of anonymity, Uhuru joined a board meeting as it neared its conclusion, with the meeting primarily discussing the dramatic events at the company that hit the headlines in recent weeks.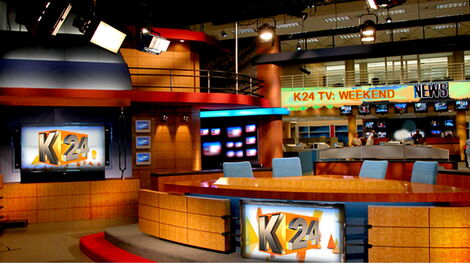 File image of K24 news studio.
"The Mediamax board met yesterday. It resolved to hire a substantive CEO, who is not Ngaruiya. The fate of Ngaruiya remains unclear.
"Anytime this week, the board will announce new 'reasonable' pay cut measures. Much lower percentages. That is why the president came," the source intimated.
With Mediamax associated with the Kenyatta family, it was reportedly feared in some quarters that the events could portray the president in a negative light.
Staff members including journalists who had been given consent letters to have them agree to the pay cuts had protested the move, with many of them failing to report to work on Tuesday, April 21 as part of a go-slow.
Sources who spoke to TMZ.co.ke had revealed that workers were considering legal action to stop the pay cuts.
"Employees are looking forward to a court injunction at the moment. Until then, when they know the real fate, they will be on a go-slow," one noted.
Another source revealed that part of the reason they went on the go-slow is the fact that there was no communication on how long the salary cuts would be in effect.
"Everybody is condemning the letter and have, hence, gone on a go-slow because the letter does not substantiate for how long their salaries will be slashed. As of today, the employees have started receiving their letters," our news desk was informed.
A sustained online campaign pushing for Ngaruiya's removal further made the crisis at the organisation more apparent.
While the events at K24 have made for dramatic headlines, several mainstream media houses have taken to slashing staff members' salaries as part of their response to the Covid-19 pandemic.
The Kenya Union of Journalists (KUJ) had moved to court to block some of the proposed cuts at Standard Group, Royal Media Services (RMS) and Radio Africa Group.
KUJ Secretary General Eric Oduor explained to TMZ.co.ke that their bone of contention was the lack of consultation before journalists were informed of the decision to slash their salaries.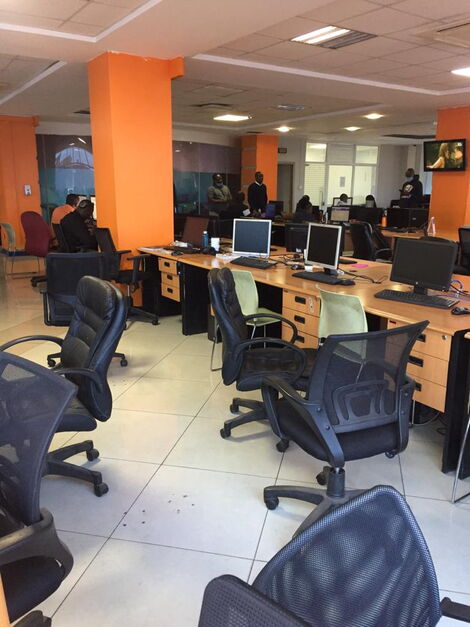 A section of an empty office at Mediamax on Tuesday, April 21.