World Record Holder Stirs Hearts With New Hustle After Going Broke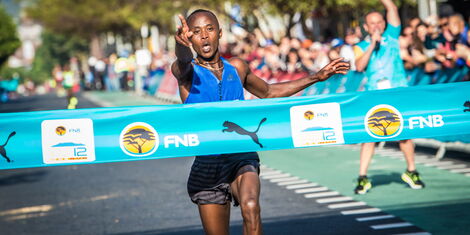 Three-time 12 kilometre road race World Record Holder Morris Munene Gachaga has resorted to farming to save himself from the economic brunt of Covid-19.
The athlete from Embu opened up on his struggles brought about by the Coronavirus pandemic that has halted most sporting activities.
"I was prepping to return to London for the marathon but that did not happen, Corona is now here with us and we have spent all the money," he stated.
Morris Gachaga claiming gold and a hat-trick win at the 2019 FNB Cape Town 12 ONERUN in a time of 00:33:38.
Gachaga has depleted all his savings that he had accrued to cushion fellow athletes from the harsh financial impact of Covid-19.
"I have a lot of athletes I am helping mostly in terms of food items," noted the 25-year-old athlete, the fastest man in the world in the 12km race.
One of the athletes from Embu credited Gachaga for providing for them during the pandemic but noted that he has now gone broke.
The athlete added that they pooled together with Gachaga to come up with funds in order to venture into farming with no races now taking place.
"We contributed savings from the money that we had left and ventured into farming, we rented the farm and planted carrots and vegetables," explained the athlete.
Farming has not been plain sailing for the team of athletes as Gachaga revealed that the heavy rains made them incur losses.
"The heavy rains flooded our farm and washed away everything, we have nowhere to turn to," noted Gachaga.
He now aims to turn to the track and complete against greats like Kenenisa Bekele and Eliud Kipchoge in the London Marathon.
His coach explained that Gachaga was set to join the Kenyan Marathon Olympic team for the games that were slated for July 2020 but postponed due to the pandemic.
"Our hope was that he would join our Olympics Marathon team. I know he is capable because he was supposed to complete against Kipchoge in April," explained the coach.
Gachaga's story highlights the likelihood of the money set aside to cushion vulnerable sportsmen and women by the Sport, Arts and Social Development Fund on Thursday, May 14 as having not benefitted most sportsmen who need it.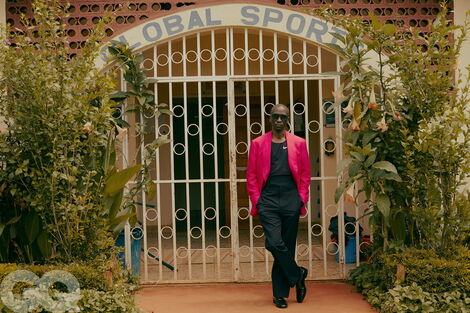 Eliud Kipchoge posing for GQ in a pink blaze
Related