Youth Accused of Benefitting from Sachang'wan Blackspot Hit Back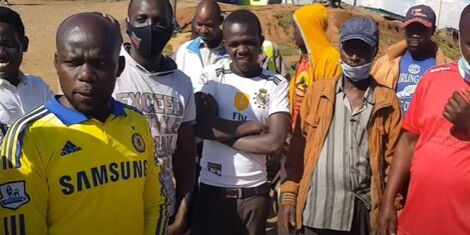 A section of youth at the infamous Sachang'wan black spot has hit back at claims by the area chief that they loot from victims of accidents.
The area chief had earlier in the week claimed that jobless youth were looting from accident scenes, allegations which they denied.
Chairman of the Boda Boda Association Shadrack Kirui stated that the chief's comments were false noting that the youth were usually the first to assist in the event of a crash.
"The allegations are false because we are usually the first responders to offer assistance to the injured by giving them first aid," he stated.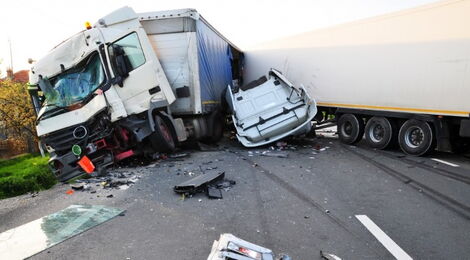 Lorry involved in an accident at the Sachang'wan black spot
He added that the young people in the area engaged in various income-generating activities rather than depending on loot for accidents.
Another resident identified as Pastor Tom added that young people usually coordinate with the police traffic department when an accident occurs to save lives.
"The youth are not looters they do some menial jobs in the forest, construction work, some are hawkers, welding and other operate carwash businesses," he noted.
The pastor reiterated calls for the chief to recall his comments and apologise to the youth adding that the young people should be protected and supported in their endeavours.
The 14-kilometres stretch of road between Salgaa and Sachang'wan along the busy Nakuru –Eldoret Highway was the most notorious black spot in Kenya claiming hundreds of lives over the years.
The road was converted to a dual-carriage in an attempt to reduce the road carnage experienced in the area between kibunja and Molo River.
It's alleged that a group of youth have been waiting for accidents to occur before looting from the victims.
An oil spill ignition occurred in Sachang'wan on January 31, 2009, and resulted in the deaths of at least 113 people and critical injuries to over 200 more.
The incident occurred when an oil spill from an overturned truck burst into flames as onlookers attempted to obtain remnants of the spilt fuel for personal use. Rescuers suggested the cause to be static electricity, an accidentally-discarded cigarette, or an individual angered at a police blockade who sought vengeance.
Police have described the carnage as Kenya's worst disaster in recent times.
In June 2009, another similar accident occurred, when an oil tanker fire killed at least four and injured nearly 50 people at Kapokyek village near Kericho.
Related