Youth Online Businesses Face Closure as Govt Demands Fees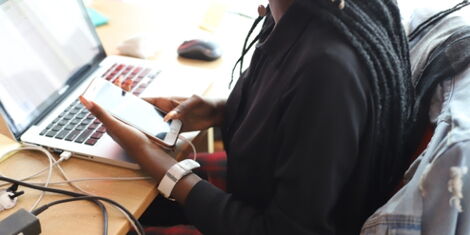 Kenyan youth running various businesses via digital platforms could soon be forced to shut down operations if pronouncements by the Kenya Revenue Authority (KRA) and the Kenya Copyright Board (KECOBO) are anything to go by.
In a notice released on Saturday, April 25, the taxman had warned that many of those trading on digital platforms were failing to remit Value Added Tax (VAT), vowing to take action.
On Tuesday, May 26, the Kenya Copyright Board (KECOBO) asserted that deejays conducting live streams on social media were considered radio stations, and would have to part with fees to acquire relevant licences either from the copyright owners or Collective Management Organizations (CMOs).
Tmz.co.ke reached out to various individuals including tax and finance expert Nicholas Gachara who broke down what the KRA notice means for youth operating online shops.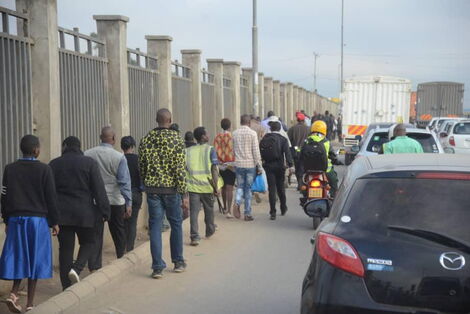 Kenyans walking in Nairobi on Monday, March 23, 2020
Small Online Businesses and Tax Evasion
Gachara explained that while it was difficult for KRA to immediately target online businesses as they are too many, structures allowed for them to go after online shop owners for tax evasion through various means.
He advised small business owners, including those operating online, to ensure compliance as KRA had the power to penalize them no matter how long it took.
"Because there are so many (online shops) it is is difficult for them to target. But what they can do is, in future, months or even years from now, they ask for a bank statement from your bank or secure a court order allowing them access to your transactions over time.
"You will then be asked to account for certain figures, and if you can't, you will be subjected to paying interest and punitive penalties. The law provides for KRA to act on lack of remittance," he noted.
Gachara advised small business owners to reach out to tax consultants or directly to the Kenya Revenue Authority (KRA) to understand how to go about paying VAT. He noted that there were different tax specifications based on the annual turnover of the business.
Gachara explained that the country had been lagging behind in legislating regulation of online businesses compared to the rest of the world, having only created a framework to facilitate taxing of online businesses in the Finance Act, 2019.
He warned business owners that they could easily lose assets and property they worked hard for if they were found to be evading taxes.
"KRA has been losing revenue. They are under pressure to collect revenue and what they are doing is simply acting on their mandate.
"What I would tell people is not to let it get to a point where you're facing legal battles. Just find out what you need to comply and do so because the penalties are very punitive," Gachara stated.
He added that KRA has the mandate to attach one's property, which means you can lose your valuable assets because evading tax five years ago.
Licence Fee for DJs' Live-Streams
At the same time, deejays who have been entertaining Kenyans with various themed live mixes on social media are also being targeted.
"Anyone who violates the exclusive rights of the copyright owner is an infringer of that copyright. When a DJ creates a live stream and starts broadcasting music to the Internet, he has become a radio station. He needs licences from copyright owners or CMO.
"The authors of these works too need to get something to cope with the tough times. By seeking permission, both the authors and DJs can share the benefits equitably," the agency cautioned on Tuesday, May 26.
Notably, most of the DJs undertaking live mixes have provided mobile money accounts and other payment options for listeners to tip them, raising the question of whether these mixes are meant for profit.
The announcement by KECOBO sparked a furor but was supported by several artists including renowned Benga star Dan Aceda, who argued that it was vital to ensure musicians also earn from the use of their work.
Aceda further observed a renewed drive in the global music industry to come up with streaming licences for social media services.
"What I understand is the latest license tariff is Ksh 10,000 per year. That's Ksh 27 per day or Ksh 150 per week for deejays to play unlimited music. But deejays have refused.
"It's not unusual. Radio and TV Broadcasters in Kenya have not paid royalties in probably a decade or more. Kenyans don't respect IP. Unfortunately.
He however raised concerns that the situation online would get very nasty very quickly.
"Youtube and Facebook will get lawsuits and they will have to enforce Copyright. Content ID technology is VERY advanced now. So a streaming license is going to be a thing very soon. It will come from Youtube and Facebook. Even Tik Tok," he maintained.
DJ Steve254, a DJ in Nairobi who mixes at popular entertainment joints such as Charlie's Bistro, told Tmz.co.ke that the measures would have a detrimental impact on the ability of many deejays to entertain their fans.
He observed that the DJ fraternity had also been hit by the Covid-19 pandemic and could not necessarily afford the licence fees.
"You know, DJs are also not working during the pandemic. Clubs and restaurants are closed, so they're not really making money.
"They've decided to entertain their fans online but with these new regulations they will be killing an industry. Deejays in Kenya make little from the online tips and they're simply trying to stay afloat.
He acknowledged the need for artists to earn from their work but condemned the way government was going about it especially during a pandemic.
Kenya Revenue Authority signage on a building
Related